We spent a sunny day at Buffels Bay in the Cape Point Nature Reserve, facilitating some boat dives to Batsata Maze and an unnamed reef to the south of Smitswinkel Bay for Old Mutual Sub Aqua Club (OMSAC). We met a whale on one of the dives – he was fascinated by the divers' orange SMB that they were using while safety stopping, and circled back repeatedly to have a look. It also took quite a bit of doing (in the form of multiple phone calls, emails and an early morning meeting with a ranger) to get permission to drive a boat full of divers and gear through the exclusion zone around Cape Point… But those are other stories.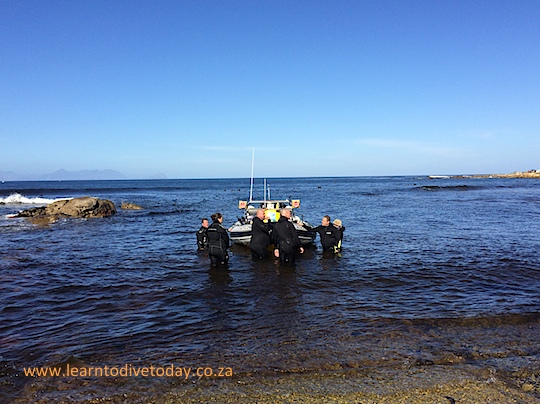 The slipway at Buffels Bay is a civilised place, with no jockeying for position or aggressive fishermen. It is in a very rocky part of the bay, however, and at low tide it's a tricky proposition to avoid clipping your motors on the bottom. On approaching the slipway, I asked the divers to hop off the boat into the water, and we moved slowly towards the shore. The water was slightly deeper than some of them were expecting!
[youtube="http://www.youtube.com/watch?v=8Ei-iu01Jlg&w=540″]
After bringing the divemobile down and putting the trailer into the water, we manoeuvered the boat onto the trailer and winched and pushed it on. It was too shallow to drive the boat on, as I would usually. This is a hyperlapse video so it's joyfully speeded up to make me look like Superman.
[youtube="http://www.youtube.com/watch?v=7zxnGykLGoY&w=540″]