Cape Town has several locations at which one can snorkel (no dive qualification required!) with Cape fur seals. In summer Duiker Island in Hout Bay is a popular location, and Seal Rock at Partridge Point in False Bay is a popular year-round location. It isn't a breeding colony, but one can still see seals of varying sizes at this spot.
To get to Seal Rock it's about a fifteen minute boat ride south from the Simon's Town jetty, along the beautiful coastline of the eastern Cape peninsula. Our boat, Seahorse, is a 6.5 metre rubber duck fully equipped for diving with emergency oxygen, safety gear, and an ample supply of cooldrinks and chocolates (if I haven't eaten them first). If you're lucky, there's even coffee on board. If the water is cold or there isn't much sun, I try to have a flask of warm water to pour inside your wetsuit or warm your hands with after you climb out the water.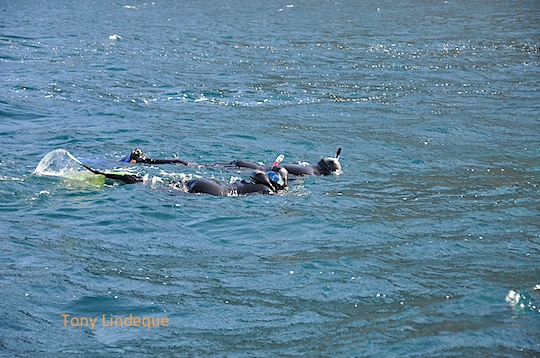 The seals are very friendly and curious – a lot like amphibious dogs – and as soon as a boatload of divers or snorkellers arrives at their island, they leap into the water to come say hello. They are extremely graceful in the water, and twirl about, swim circles around you, and hang upside down with big curious eyes nearby. They are not threatening, but – as with a strange dog – it's not a good idea to try and touch them or put your fingers anywhere near their mouths.
All that's required is exposure protection (wetsuit, booties, gloves, and a hoodie), a mask and snorkel, and a weight belt to counteract some of the buoyancy of the wetsuit (otherwise it's very hard to stay face down in the water, or to dive down a little bit). I can supply all this gear for rental, in a range of sizes. On the day these pictures were taken I had divers in the water as well (you can see the orange buoy that the Divemaster was towing in the picture above). The snorkellers stayed near the divers, because that was where a lot of the seal action was. You can see some photos of what it's like to scuba dive with seals here.
The reef around Seal Rock is very beautiful too – there are sea urchins, anemones, sea cucumbers, and a host of other colourful marine life to view. If you're lucky you'll also spot a school of fish in the sunlit water. What can you see from an underwater or snorkelling perspective on a trip like this? The picture below will give you a taste.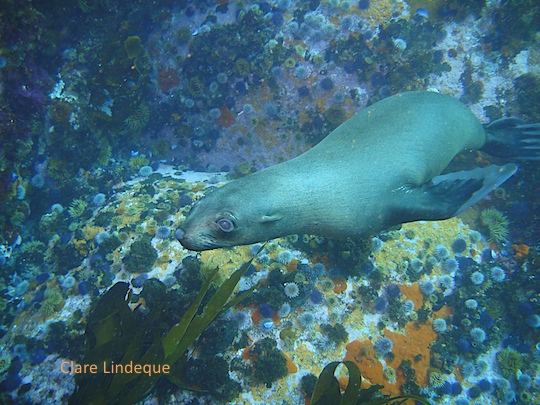 You can also check out this video to see what it's like. It's an adventure not to be missed. Email me if you want to go and meet the seals!