50 Ways to Save the Ocean – David Helvarg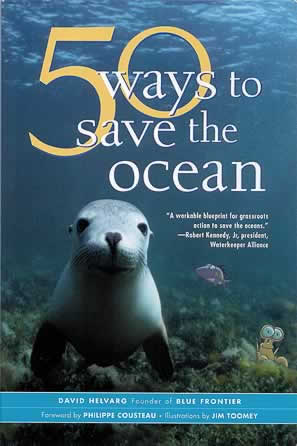 Effective pro-ocean activism is something that everyone who cares about the marine environment can engage in. This is the strong message of the most recent of David Helvarg's books, Saved by the Sea, and of this short volume, too. It is illustrated by Jim Toomey, creator of Sherman's Lagoon.
Rather than being overwhelmed by ocean-related doom and gloom, there are very simple actions that we can incorporate as part of our everyday lives that have a direct impact on the health of the marine environment. The Two Oceans Aquarium does a great job of speaking about this aspect of responsible citizenship on their blog and on Twitter – you should follow them if this is important to you.
Some suggestions for simple actions that can make a difference include:
Don't use single-use plastic bags
Say no to straws and balloons
Drink only tap, not bottled, water
Put cigarette butts in the bin
Cut all loops of plastic and other non-biodegradable materials before throwing them away (this prevents entanglement by seals and other marine life if/when the material ends up in the ocean)
Many of the actions that Helvarg suggests entail simply enjoying the marine environment, and this is a profound but familiar idea. When we care about something, we will protect it, and by enjoying the sea through diving, visiting the beach, or riding on a boat, we will come to care about it and its inhabitants. The emphasis in many of the sections is also on safe enjoyment of the ocean. Helvarg does not explain his focus on safety, but one reason I can think of for encouraging careful and safe enjoyment ocean-related activities is to ensure that these activities will remain available to everyone. Bad publicity after marine accidents can drive people away from the beach!
50 Ways to Save the Ocean connects patriotism and pride with care for the environment, which is an excellent approach for robustly patriotic people like Americans. For South Africans, whose feelings towards their country are – for historical reasons – often a little less straightforward than those of your average flag-waving American, this approach may not be the best one. Helvarg also provides the contact details of a large number of US-based organisations that espouse the values he advocates and engage in the kinds of conservation activities he describes. Someone needs to write a version of this book for South Africans!
This is the kind of book you could go through with a relatively young child, and decide together which actions you're going to implement together. The reading level isn't complex.
Get the book here, here or here (if you're in South Africa).