Hi divers
Weekend diving
Saturday: No diving planned – why not join the coastal cleanup at Hout Bay harbour?
Sunday: 10.30 am and 1.00 pm to North/South Paw and Justin's Caves, from Oceana Powerboat Club (very much dependent on wind strength on Saturday)
Monday: Seal rock at Partridge Point / Shark Alley, double tank dive launching at 10.00 am from Simon's Town jetty
Recent dives
Last weekend we took the boat down to Buffels Bay in the Cape Point Nature Reserve to join OMSAC for a day of snorkeling, diving and braai-ing.. The conditions were terrific and both the shore divers and those on the boat had great viz. We took the boat to Batsata Maze and to an unnamed site just on the outside of the exclusion zone around the reserve. We were very fortunate to have a whale cruising by during the safety stop, fascinated by the divers' SMB, and then hanging around as the divers surfaced.  It is a stunning setting for a day out and even the tidal pool was filled with interesting creatures.
There are some photos on facebook, and a nifty little time lapse video of us putting the boat onto the trailer at the slipway. I usually wind the winch much faster than in the video, though – I must have been having an off day on Saturday…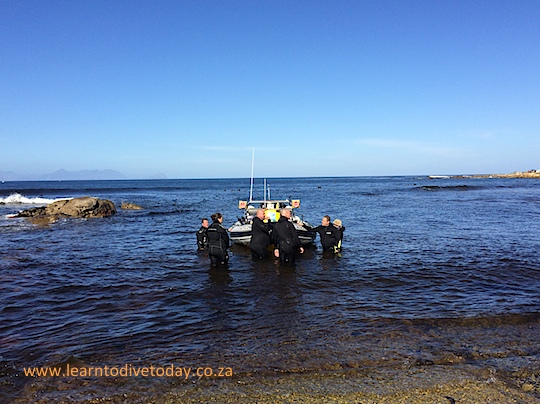 On Monday we enjoyed fantastic visibility at Partridge Point, where we snorkeled with seals, and at Shark Alley. There are still a lot of cowsharks around – the time of year when they usually disappear is approaching, so we are watching with interest.
This weekend
A southerly swell rolls into False Bay in time for the weekend. The Kalk Bay Shootout surf competition participants are all excited. When surfers are excited, divers are not. We share the ocean… Just not always at the same time. There is also the False Bay Yacht Club spring regatta taking place on Saturday and Sunday – more info here.
I doubt there will be anywhere pleasant to dive in False Bay. The south easter only starts blowing on Saturday so I doubt that the viz out of Hout Bay will improve enough for good diving. That leaves the Atlantic seaboard. Twenty four hours of strong south easter might clean the water close inshore enough for good diving.
I reckon the best options will be North and South Paw or Justin's Caves and surroundings, so that's the plan for Sunday. If the south easter makes it over the top of Table Mountain, and cleans the water sufficiently, we will launching from OPBC at 10.30 am and 1.00 pm. If you're keen to dive let me know and I'll contact you on Saturday afternoon to let you know if conditions are good enough.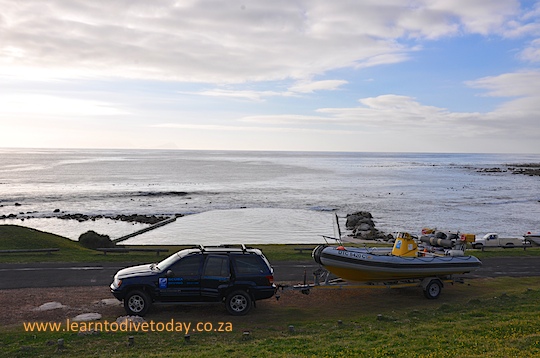 If you are at a loose end on Saturday, an excellent way to spend your time is at the coastal cleanup dive in Hout Bay harbour. We attended a few years ago, and it is great fun and good for the environment. Just wear a kilogram or two extra of weight if your weighting is usually marginal – the water is not very deep!
Cape Town International Boat Show
In three weeks' time the CTICC comes alive with the Cape Town International Boat Show. This year there will be a new addition in the form of a "dive village". Collectively a bunch of local dive centres and operators have come together to make this happen with the goal of showcasing the incredible diversity of diving we have to offer in Cape Town. The village will have a pool in the centre and we will offer non-divers an opportunity to breathe underwater and hopefully come to enjoy the ocean as much as we all do.
The show is on from 10-12 October at the Convention Centre. Come down and visit the representatives of your local dive operator and bring a friend who needs convincing that diving is the best thing ever, and amongst everyone in the dive village we will do our best to get them in the water. SURG will also be there showcasing some of the best photos taken in and around Cape Town's waters. There are also bound to be a bunch of interesting course options, gear sales, camera displays and the like. Plus the rest of the boat show, which is well worth a look!
regards
Tony Lindeque
076 817 1099
www.learntodivetoday.co.za
www.learntodivetoday.co.za/blog/
Diving is addictive!
To subscribe to receive this newsletter by email, use the form on this page!