The first boat dive I ever did, and my first dive after my Open Water course, was to Partridge Point, where we cruised around Seal Rock and enjoyed the antics of the local inhabitants. It was on that dive that I met Fritz ("Borrels") and Justin the Silver Fox, who was Divemastering. Here's a picture Fritz took of me that time, with a chubby seal above my head. Look ma, no gloves! And did I mention how irritating snorkels can be?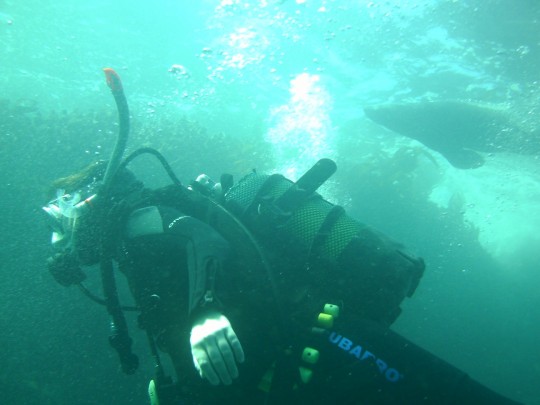 I've dived the site twice since, the most recent time being on 6 February. We've had a couple of months of totally awful visibility in False Bay, but a little bit of north westerly wind and some big swells cleaned out the bay in record time and we were able to have a beautiful weekend's diving. This time, when Tony told Cecil we'd be going to Partridge Point and that we'd probably see seals, Cecil said matter of factly, "Sharks eat seals." Fortunately the great whites prefer to hang about near Seal Island in the middle of False Bay!
The Partridge Point reef system is extensive, and new areas are constantly being mapped. The most recent addition to the site (it was always there, but has only recently been discovered!) is Peter's Pinnacles, named after Peter Southwood of wikitravel fame.
Grant dropped us on a pinnacle that rises to within 12 metres of the surface, and we descended on the shot line. The site is made up of an extensive scattering of granite boulders and rocky outcrops, separated with sandy strips that look very much like staircases or runways. Dropping down close to the sand at one point to photograph a four-legged starfish, I was delighted to discover that the area I was hovering above was covered with tiny striped brittle stars.
The site is incredibly diverse and teeming with brilliantly coloured life, including large numbers of sea cucumbers (surprise!) and sea urchins. Giant gorgonian sea fans inhabited by sponge crabs (resembling nothing so much as coconut-dipped vetkoek) wave gently in the surge, in orange, red and every shade in between.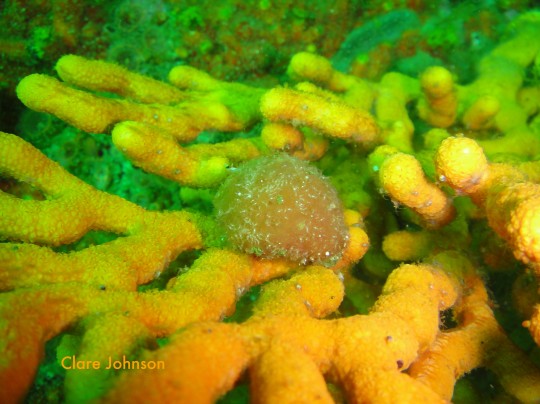 And it is nudibranch paradise. I took a personal census of every single nudibranch on the part of the site we traversed – mainly gas flames and black nudibranchs – and felt it my duty to photograph every single specimen. I never, ever get tired of these creatures. They are so extravagantly beautiful!
There are also sea anemones in bright, bright red and orange, gregarious white ones with curly tentacles, and elegant feather stars in abundance.
We saw a number of very frisky dark and puffadder shysharks, zipping around with a sense of purpose we never see in their relatives at Long Beach. We usually see them on the sand at Long Beach, and I was surprised, seeing one lying on a rock, at how well camouflaged he was.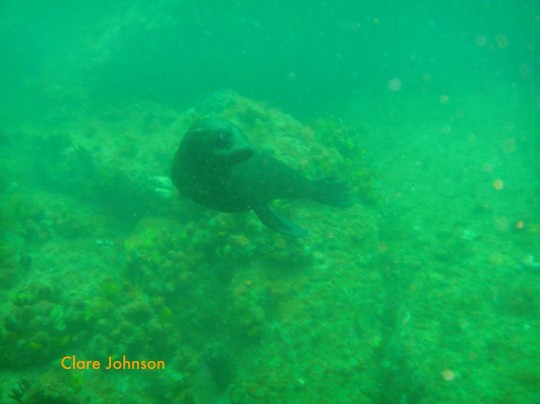 We weren't particulary close to Seal Rock, but we were visited by three or four friendly seals who probably heard us from a mile away and came to investigate. They swam around us, checked us out thoroughly – I must say looking a seal in the eye at 20 metres as he circles me like a puppy is enough to put me in a good mood for a week – and returned once or twice for a further look. They are so graceful in the water, and have such large, soulful eyes and cute little ears sticking out at 90 degrees from their heads, that I just want to cuddle them. But I've seen their teeth, and know that this is a bad idea!
Towards the top of some of the pinnacles is the red bait zone, with sea squirts of prodigious size surrounded by feeding hottentot. While we were doing our slow ascent we looked up into the sunlit, shallow water above the rock closest to us, to see a cloud of fish swimming slowly around the top of the pinnacle.
Dive date: 6 February 2011
Air temperature: 26 degrees
Water temperature: 8 degrees
Maximum depth: 21.9 metres
Visibility: 10 metres
Dive duration: 38 minutes
The Partridge Point site is inside the Castle Rocks restricted zone in the Table Mountain National Park Marine Protected Area (MPA), and for many years no fishing has been allowed there. I like to think that the sheer profusion of life we observed is a result of this – MPAs can work, if they're administered properly and the permit money we pay as scuba divers is put to good use enforcing conservation policies, instead of buying BMWs for government stooges.