The inaugural OMSAC Treasure Hunt was held on 9 July at the Cape Boat and Ski Boat Club at Miller's Point – their very exposed slipway faces the opposite direction to the one we usually use, but (a major point in its favour) the CBSBC has facilities that are otherwise lacking at Miller's Point… such as toilets and a shower or two! The bar was also appreciated by some chilly divers after their dives!
OMSAC had done a sterling job of marshalling the support of three local dive charters: Dive Action, Underwater Explorers and Pisces Divers. Their boats were launching hourly to nearby dive sites, and a couple of Extreme Shore Dives were also on the program. I'm not entirely sure what was extreme about them (I think the prizes may have been – they got gold golf balls)… Perhaps a reference to the looooong surface swim from the slipway to Shark Alley!
In the week prior to the OMSAC Treasure Hunt, Tony and I watched the wind with much trepidation. An unseasonal southeasterly was buffeting the bay, which usually leads to poor visibility and unhappy divers. We were surprised and delighted, however, to have 10 metre visibility on the SAS Pietermaritzburg (most unusual!) and 4-5 metres in Shark Alley. The surface conditions there were unpleasant, since by the time we launched for the second time – around 1330 – the swell had picked up quite considerably.
The weather on the day was magnificent – anyone who was in Cape Town on that weekend will recall it as being an absolute shining gem in the middle of winter that heralded the start of several beautiful, sunny weeks. The sun shone all day, and I spent some very happy hours sitting overlooking the waves at Miller's Point, watching whales frolicking in the bay, and chatting to Errand Girl Bernita. There was also a steady stream of familiar faces passing by our spot in the car park, so we were not short of entertainment between dives.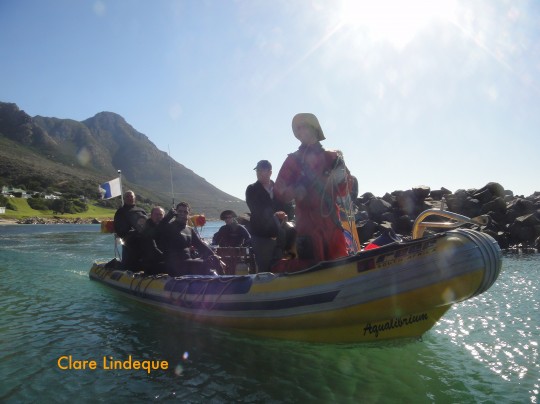 In addition to the diving there was a festive atmosphere with boerewors rolls on the braai (included in the registration fee was a voucher for a boerie roll and an iced tea – owing to a glitch the iced tea never materialised but there were drinks available for purchase at the venue), a small market, and stands manned by DAN South Africa and Manex Marine. I heartily approved of the sale of coffee and hot chocolate in enamel mugs for R10, and R6 for a refill (you got to keep the mug).
The Treasure Hunt aspect of the day passed me by – I actually forgot about it as soon as I rolled into the water – but on each dive the skipper had four marked golf balls which were tossed overboard after the divers had backward rolled off the boat. Each golf ball corresponded to a prize, some of which were rather nice. This part of the day could do with some work for next year's event… On most of the dives, one person found all the balls, as they fell close together, and one lucky chap collected about ten golf balls in total. He was also rewarded with a (ridiculous but very nice) prize for finding the most golf balls – share the love, people!
There was a raffle with the prize of a VERY proper diving holiday to Mozambique – somehow I also missed this, which is lucky as I would have spent the cost of the holiday on tickets to try and win it! In our goodie bags for the day we received back copies of Submerge, Africa Geographic and Birds & Birding Africa, as well as a fetching Old Mutual t-shirt. We were also (including the 15 year old girl who was diving with Tony's group) each given a bottle of Sedgwick's Old Brown Sherry. The juxtaposition of drinking and diving was slightly inappropriate! Imagine my delight to win a second bottle in the lucky draw. If anyone can suggest what two teetotallers can do with 1.5 litres of sherry, please let me know… Current best idea is to use it as drain cleaner!
There was also a lucky draw – in our goodie bags we each received a number. There was a ridiculous quantity of Stormer's merchandise on offer (Tony won some of that), but not surprising given their embarrassing loss to the Crusaders the previous week. There was also a number of awesome prizes: boat dives with Underwater Explorers, dive gear, and a tour of Cape Town with Carel from Dive Inn. Dives in the Predator Tank at the Two Oceans Aquarium were also up for grabs. (Next year some thought should be given to limiting the number of lucky draw prizes that can be won by each person – about four folk practically cleaned up all the prizes between them! I was very jalous!)
Diving events like this that aren't all about pushing a particular brand of gear are a big boost to local diving, and we really enjoyed the day with OMSAC. It was smoothly run, well organised, and there were provisions made so that even if the weather had been horrible, we could have a hot cup of coffee and a shower after our dives. In winter in the Cape – when the diving is the best in False Bay – this is important. It's no mean feat to put together something like this, and as the OMSAC committee has already demonstrated with the Robben Island Coastal Cleanup we attended last year, they are more than up to the task! We're extremely grateful for their efforts and look forward to future events.