I wondered when I'd need a picture of a glass of champagne next to some dive gear; this post feels like as good a time as any to use it. I feel obligated to explain that the champagne was being consumed on our pool deck during the course of a late afternoon fool around in and next to the pool with some of my friends. The dive gear was still lying there from a class Tony had led that morning. The juxtaposition was too much to resist.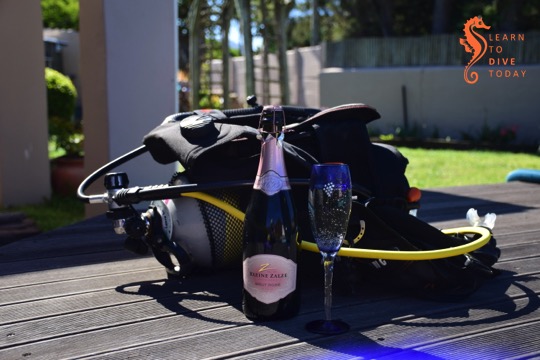 That said, it's time to think about Christmas, Hanukkah, and time off with the family. Some may even celebrate Festivus. I salute you. Regardless, it's a good time to give gifts to the people you care about. Some suggestions follow below.
First, here are the obligatory links to previous years' editions of this guide: 2010, 2011, 2012, 2013, 2014, 2015. Unfortunately, 2016 was an annus horribilis best left undiscussed. As usual, this year's guide owes much to previous versions. There's nothing new under the sun.
Donations
For the person who has everything, or because you're feeling grateful, consider a donation on behalf of your friend or loved one:
Experiences
Don't forget to add a memory card for the lucky recipient's camera if you plan to gift any of these! Contact Tony for prices.
For the non diver, you could inspire a love for our oceans with one of these:
As usual our Wild Card was an absolute blessing this year. It has been used for multiple park visits and also gets us a discount on our toll fee on Chapmans Peak Drive's frequent user program. The full card is a bit pricey, but there's a great alternative called My Green Card, that costs R145 and gives twelve entries to any of the paid sections of Table Mountain National Park (so, Cape Point, Boulders, Silvermine, Oudekraal, and a few braai areas). Read the fine print carefully though – if you use it up quickly, you have to wait for the 12 months to pass before you can purchase another one. But I think you can also share the 12 clips with friends, whereas a regular Wild Card is tied to your identity. You will have to go to the SANParks office in Tokai to get a My Green Card.
SanParks is introducing differential pricing for Table Mountain National Park, with significantly lower prices for locals, starting next November, so some mathematics will be required this time next year to determine whether a Wild Card is still worth the expense.
Something to read
Everything you need to know about finding a book related to the ocean can be discovered in our list of most recommended books, and our guide to finding the book you need (on this blog, at least!). There are a couple of children's books there, too.
A magazine subscription is also a fairly reasonably-priced gift idea. I can't tell you which of the dive magazines are worth reading these days – our current subscriptions are Maritime Review (which is free, so that's perhaps cheating) and CAR magazine…
Something beautiful
Clip Clop designs and prints beautiful tide charts for Cape Town and Durban and moon phase charts for the year. You can order online or usually find them at Exclusive Books or Noordhoek Farm Village (just browse the shops there, one of them has the tide charts right at the door).
You could also print and frame a photo, or create a photo book. Most camera stores can assist with a range of printing media.
Dive gear and water-related stuff
Some excellent water-related gifts I've received over the years include:
A WetSac (seriously, check it out) – order online
A hooded towel – surf shops often stock them, try the strip at Surfers Corner in Muizenberg
A reel and/or a surface marker buoy – make sure it's one of the ones that isn't negatively buoyant
Otherwise, just think a little bit about what might be useful before or after a dive…
Sunscreen, conditioner, cleansing shampoo, detangling spray
A reusable metal water bottle (glass is a bad idea for the boat)
A mini dry bag to keep phones and keys safe
A beanie for cold days on the boat or a cap for the sun, or a buff for hair management or neck protection (the Aquarium sometimes sells turtle ones to fundraise for their turtle rehab)
Be safe, be kind, be lekker. Thank you for your friendship and for the dives!