Coastal Fishes of the Cape Peninsula and False Bay – Guido Zsilavecz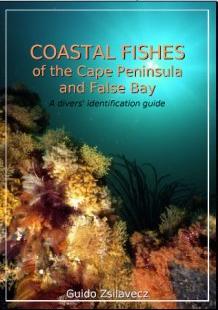 This slim volume is another SURG publication, and is of the same high quality as Georgina Jones's Marine Animals production. It's only about fish – no invertebrates, no plants and no birds.
Like Georgina's book, it only covers a very particular geographic area, which makes it a super reference for local divers. Given a big thick book on the whole of the South African coast, I am liable to identify ten species found only in KZN that I think I've seen on a False Bay dive… and then be sorely disappointed to realise how statistically improbable (but not necessarily impossible) that is!
The book is laid out nicely – the text is at the front, and all the photographs are at the back. So you can flip through the photos all in one go, figure out what you saw, and then read all about the species in the front of the book. The information is comprehensive and useful for divers – after a recent night dive, I used this book to confirm that we'd been surrounded by a shoal of juvenile maasbanker, based on the photographs and behavioural information included in the book.
There is information about which species have been seen at which Cape dive site, and where they are most common, which is fabulous. A dedicated reader could even figure out which species they are most likely to see on a dive at a particular location, with reference only to this book and Peter Southwood's Wikivoyage site. This information, combined with knowledge of where the fish like to hide out, can enhance a dive a great deal. Instead of searching aimlessly, one can be more directed in where one looks for marine life.
Guido Zsilavecz, the author, has a particular interest in klipfish (last I heard he's working on a book only about them, but I could be wrong), and devotes a number of pages to the different varieties. For someone like me, who sees hundreds of multicoloured klipfish but can never decide what kind they are, this is a godsend.
You can purchase this book from SURG – there are order details on their website and they will post it to you directly. Otherwise it's available in good dive shops in Cape Town.