Hi divers
Weekend dive plans
No diving
The weather forecast predicts that we are soon to be lashed with 50 km/h winds, a 7 metre swell, and no small amount of rain. It seldom is as bad as the forecasts claim, however the swell size and direction will hammer False Bay. Despite Sunday's weather looking peachy, I don't think the ocean will be, so we will plan for a dry weekend… It is winter after all.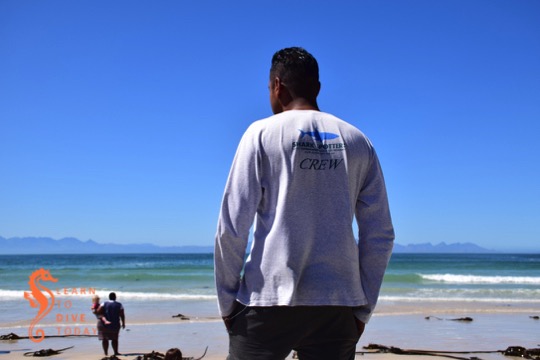 Shark Spotters supporters program
We are proud to announce that we have signed on as official supporters of Shark Spotters. We are Silver partners, and for larger businesses there are higher levels of support on offer. (We are hoping to encourage some of the other dive centres to consider supporting Shark Spotters, too…) Individuals can also sign on to the supporters program, or donate in many different ways.
Shark Spotters is part-funded by the City of Cape Town and the Save Our Seas Foundation, and the rest comes from public donations. The Shark Spotters provide beach safety, a world-first environmentally friendly shark exclusion net at Fish Hoek beach, conduct educational programs at local schools, and conduct shark research in and around False Bay.
We'll write a blog post with more information soon – but in the mean time, we're very happy to be contributing to the important work of Shark Spotters. If you'd like to as well, visit their website to find out how to lend your support, or drop me an email and I'll connect you with the right people.
regards
Tony Lindeque
076 817 1099
www.learntodivetoday.co.za
www.learntodivetoday.co.za/blog/
Diving is addictive!
To subscribe to receive this newsletter by email, use the form on this page!