Hi divers
Weekend diving
Wind, walkers and waves will mean we are diving on Saturday in False Bay starting real early, i.e. 7.00 am at the Yacht club. We plan to dive Atlantis and the Brunswick.
On Sunday there will be way too much traffic and road closures to make an early start possible and I don't think the wind will allow anything later in the day. I am really keen to do a double tank dive to Justin's Caves or to dive North and South Paw, but will make that call on Saturday afternoon once we have a better idea of the wind (which looks iffy) and the viz.
Week's diving
The last week has been spent driving instead of diving as all our cylinders were due for their annual medical examination. We did cancel last weekend's dives due to the wind being a little stronger than I like to launch and dive in, but the guys that did go out reported really good conditions.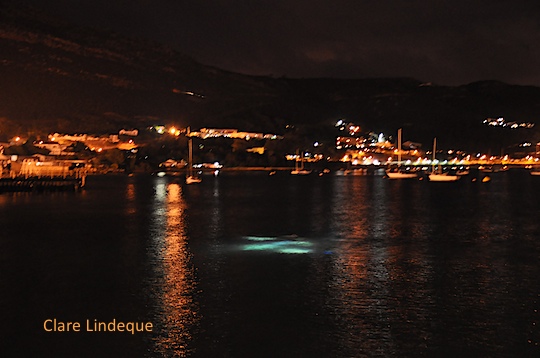 We are just home from a really good night dive and all in all we were 19 divers. We dived below and around the jetty in Simon's Town and had passable viz and a great deal of jellyfish to contend with. Thanks to all those folks from far and wide (including OMSAC!) that joined the fun. The aim with Diversnight International is to have as many divers in the water at 2013 as possible, world wide, and then to eat cake. The numbers since this event started are:
2005: 351 divers in Norway.
2006: 889 divers in Denmark, Norway and Sweden.
2007: 1859 divers in Denmark, Estonia, Finland, Iceland, Norway, Sweden and also Svalbard.
2008: 2183 divers in Denmark, Estonia, Finland, Iceland, Norway, Sweden, Egypt, Indonesia, France, Spain, Faroe Islands and Belgium
2009: 2749 divers, 218 divesites and 20 countries
2010: 1700 divers, 175 dive sites and 22 countries
2011: 2577 divers, 196 dive sites and 24 countries
2012: 2322 divers, 231 dive sites and 25 countries
If you think the water is cold here, you should feel it in Scandinavia in November, where this event started!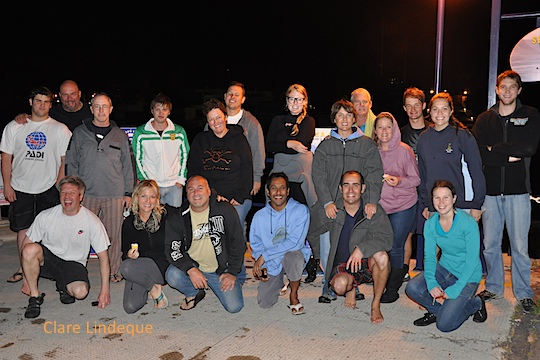 Prizes
Congratulations to Bianca, who won two boat dives in the Diversnight lucky draw this evening! Also congratulations to Esti who has won a Nitrox Specialty course in the October boat divers' lucky draw.
We will have another draw for boat divers in November and one in December. To enter, come for a boat dive. You'll win a Nitrox course, or, if you're already Nitrox certified, you'll win two boat dives!
Gear
Sometimes I have students and former students who want to sell some gear secondhand. If you're looking for gear, let me know and I might be able to put you in touch with someone. The details of the transaction are up to you! At the moment I know someone with a Suunto D6i dive computer and a regulator set for sale. If you're interested drop me a mail and I'll hook you up.
regards
Tony Lindeque
076 817 1099
www.learntodivetoday.co.za
www.learntodivetoday.co.za/blog/
Diving is addictive!
To subscribe to receive this newsletter by email, click here or use the form on this page!