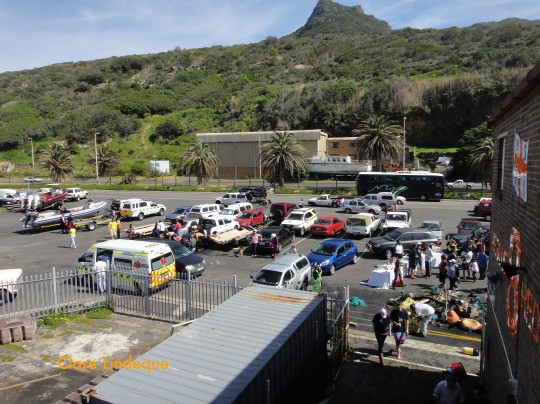 Tony and I have wanted to dive Hout Bay harbour almost since he came to Cape Town two years ago. It always looks so clean and inviting as we chug out on the boat for a dive around the corner, and it has seals – lots of them! Also, no one dives there. We were thus very much looking forward to the cleanup dive organised by OMSAC on International Coastal Cleanup Day. Instead of us having to track down the harbour master and get permission to take a dip in his private lake, OMSAC did it for us. And we had a task, too – collecting garbage from the sea floor – which was pretty cool.
We entered the water off the floating jetty in the marina (marked no entry except for yacht and boat owners), on the left of the NSRI building and the adjacent bar/restaurant. We would swim under the jetty, and exit the water at the slipway where the dive boats and poacher boats launch. Some of the divers managed giant strides; I did not. I was wearing a very buoyant second wetsuit, and was wearing more weight than I've ever used since my Open Water course. (I am ashamed to admit how much.) So when I sat down on the edge of the jetty to put on my fins, there was no getting up again, and I used the "faceplant" entry method. You won't find that one in your PADI manual.
The divers were in groups of 10-12, and each of us had a coloured tag on our BCD – red, blue, green, yellow, white, etc – which was about the size of a credit card. Tony, Goot, Bernita, Corne and I were on the green team, and once our team leader and the rest of the group had hit the water, we descended. To say that Bernita and I lost everyone else instantly would be something of an understatement – the visibility was measurable in centimetres, and there was no way we were going to be able to identify other members of our team without a TSA-style full-body pat down to locate their colour tag.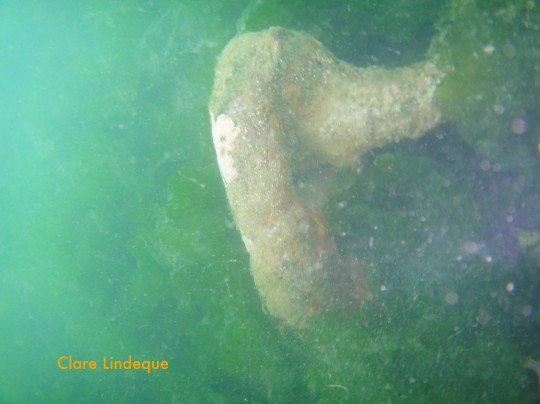 No matter – the two of us completed a half hour dive, and retrieved a full bag of rubbish including a strip of rugby sock, a mysterious pink leather cuff-like object, some fishing line, some wire, and a LOT of plastic bags. I found a beer bottle at the end of the dive, and staggered up the slipway carrying it and my excessive (and, it turned out, insufficiently heavy) weight belt, probably looking as though I'd been partaking of some Castle Lager while submerged.
Bernita and I swam holding hands a lot of the time so as not to lose one another (like children lost in a forest), with our free hands stretched out in front of us. Sometimes we could see the outstretched hands – other times, our arms disappeared before us into a cloud of silt. We tried to swim away from other divers as much as possible, because the vigorous cleanup activity (and, no doubt, some inexpert finning) stirred up clouds of thick white silt. In the clear patches, visibility was probably about 5 metres, which we found a great relief.
The water is shallow, no more than four metres deep, and the bottom of the harbour has areas covered in sea lettuce, which moves uncomfortably beneath one as you swim over it, and sandy areas overrun with several kinds of crabs. There are klipfish, tiny barehead gobies, and clouds of tiny fish fry that swarm around one. It's also very silty, and in some places the bottom seems to boil and steam when you move over it – a layer of fine dust and sand hovers just above the harbour floor, waiting for a careless move to stir it up into the water column.
This isn't a site you'll want to put on your list of "must-dive locations", and it's unlikely that you'll be allowed to dive the area without special permission. But I'm delighted that we had an opportunity to check it out… Both Tony and I love to visit working harbours and marinas, and this was a different perspective on a very familiar place.
There were some intermittent reservations prior to the event about the water quality in the harbour, but it was fine, and the only people who got oiled up were those who retrieved parts of diesel engines and pool pumps. (Everyone seems to be experiencing good – unchanged, that is – digestive health after the event too!)
Dive date: 17 September 2011
Air temperature: 25 degrees
Water temperature: 14 degrees
Maximum depth: 3.8 metres
Visibility: 50 centimetres
Dive duration: 31 minutes