Hi divers
Weekend diving
No dives planned
For some time now it has been difficult to write a NEWSletter as we have done so little diving. The harsh conditions have been relentless and decent weekday diving has also been dramatically curtailed. Whilst we wait for great diving conditions many, many people struggle to relax and feel safe while the raging fires have either cost them dearly or continue to pose a risk.
The number of hard working, dedicated people out there fighting these fires (including volunteer fire fighter slash Divemaster Gary, who many of you will know) makes you realise that being disappointed in another weekend of no diving is hardly worth a mention. I became anxious when the fire was still more than a kilometre away from our home, whilst other people were hosing their houses down in a hail of embers in an effort to save them.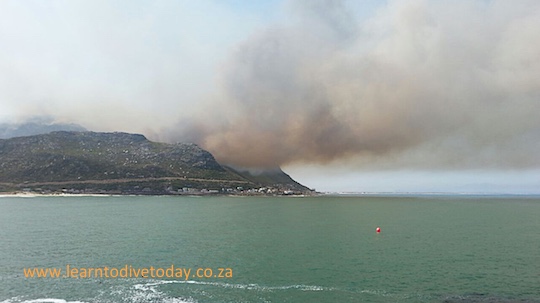 So be grateful you have a home to hide from the wind and avoid the ocean this weekend. A 4 metre swell and 30 km/h winds are on the cards so it is once again a no diving weekend. If you're doing the Cycle Tour on Sunday, good luck! We're sorry you won't be passing through our neck of the woods any more, but be safe and have fun anyway.
Fun stuff
There is an Aqualung dive festival happening in Gordon's Bay in two weeks' time on 21 March, with great prizes on offer for participating divers. There are still tickets available so contact Indigo Scuba or Underwater Explorers to book.
Those of you who expressed an interest in Mozambique in June-July can expect an email from Clare by the end of the weekend… Plans for last weekend's email blitz were derailed by some smoke and flames! If you don't know about the trip and want more info, let me know.
regards
Tony Lindeque
076 817 1099
www.learntodivetoday.co.za
www.learntodivetoday.co.za/blog/
Diving is addictive!
To subscribe to receive this newsletter by email, use the form on this page!