If you're a Cape Town diver, I certainly hope you've taken advantage of the incredible – I repeat, incredible – shark diving opportunity that is right on your doorstep. I'm not talking about shysharks… I've got the sevengill cowsharks at Shark Alley, just inshore of Pyramid Rock, in mind.
[youtube=http://www.youtube.com/watch?v=A-vP7W5TEBk&w=540]
Shark Alley is a shore entry site just past Miller's Point, though it's a tricky climb down the hill and over the rocks so many dive centres do boat dives there as well. The maximum depth is about 12 metres, and the site is characterised by beautiful pink-encrusted rocks, sea urchins, and waving kelp fronds. That's not why divers go there, however. They go there to visit the cowsharks.
[youtube=http://www.youtube.com/watch?v=fiZs3YOG1-c&w=540]
Just a few metres offshore, in a bare patch in a V-shaped space in the kelp, we settle on the sandy bottom and wait for the sharks. They don't disappoint – Shark Alley is their meeting place, where they hang out during the day, and you're almost guaranteed a sighting or five.
These beautiful creatures grow to up to 3 metres in length – a lot of fish – and are curious, swimming close to divers to take a look. You can see their eyes following you as they pass by, close enough to touch… But don't!
[youtube=http://www.youtube.com/watch?v=GoiQSWdaSnU&w=540]
Not much is known about these sharks. They are ambush predators, hunting in packs, in poor visibility (so a night dive or a dive at Shark Alley when the sea is very murky is something to think about very carefully). They eat other sharks, seals, fish, and pretty much anything they can get their teeth into.
We've seen as many as 15 different sharks on one dive, and on repeat dives we have recognised the same specimens over and over. Many of the sharks have big bite and tooth marks on their sides, and bits out of their fins… Some of this is from mating behaviour (apparently a bit violent), but possibly also from fights between the sharks. They will eat each other if the opportunity arises, being fairly indiscriminate when it comes to diet.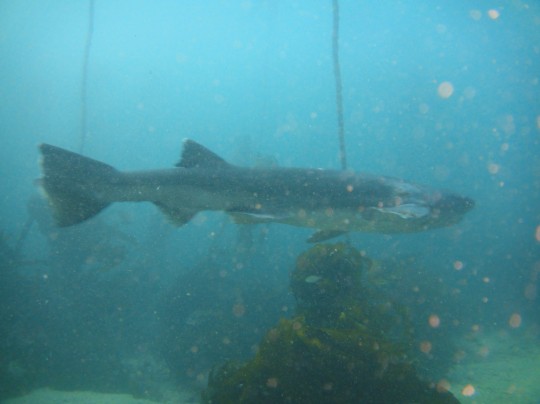 It's not clear whether they leave Shark Alley at night to go hunting, or whether it's a place they come to to rest, socialise, or hide. The actual number of cowsharks passing in and out of False Bay isn't clear either – we don't know what fraction of the total population the sharks we see at Shark Alley represent.
Some of the sharks we see have white spots on their backs – one in particular we call Tipp-Ex because of the size and number of spots. The spots are caused by a fungus – I'm not sure if it's harmful to the sharks, and whether they catch it from one another through contact when feeding or mating.
[youtube=http://il.youtube.com/watch?v=aIKU_peK7Fs&w=540]
The photos in this post were taken on the same dive during which we had a close encounter with a very confident female cowshark. You can see that the visibility was extremely poor (so apologies for the photo quality!). The video footage is from prior dives.