Hi divers
Weekend dives
Saturday: 9.00 and 12.00 from Hout Bay to the Romelia, the Maori and/or the BOS 400
Sunday: 9.00 am double tank dive from OPBC to North and South Paw and/or the Cape Matapan
The week(end) that was
We had a dry weekend last week as we spent three days at the CTICC participating in the Cape Town International Boat Show. We met a lot of new people, some old friends and a few really cool dogs. Many of the visitors to our stand expressed an interest in diving and asked to be added to the newsletter. To new readers we say welcome and hopefully we see you all soon in the water!
The special offers on Open Water, Advanced, Refreshers and Nitrox Specialty will hold for another few weeks, so if you missed the show you can still be part of the summer diving bunch.
Conditions report
The south easterly wind has been hectic all week so theoretically the Atlantic should be crystal clear. I drove home along the coastline today and there are huge patches of clean water and huge patches of darker water. It looked very clean around Llandudno so I think the Romelia is on the cards for the weekend. I doubt False Bay will be good as apart from the wind, the swell is in a southerly direction which does not improve conditions at all.
Saturday looks like the best option for diving, and Sunday a maybe. If you want to dive, reply to this mail or text me. Sunday's launches will be confirmed late on Saturday afternoon.
Saturday: launching from Hout Bay at 9.00 and 12.00. I have mostly students so we will look for clean water around the wrecks of Maori Bay and the Romelia wreck area.
Sunday: conditions permitting, we will be launching from OPBC at 9.00 for a double tank dive. We will look at the viz around the wreck of the Cape Matapan, and if it's not clean there we will dive the pinnacles at North and South Paw.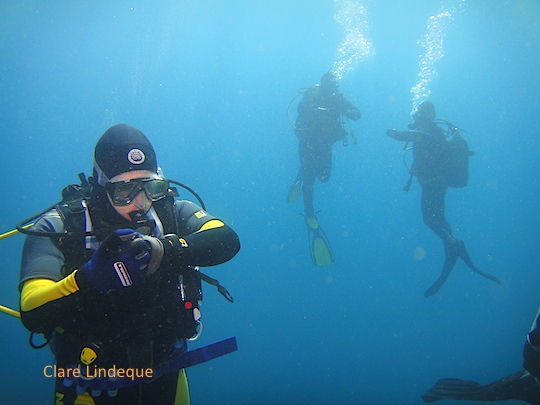 Congratulations are in order
for Shane and Odette, who got engaged this week. Wishing you all the happiness! Also congrats to Brian, who has just completed his Divemaster course in… wait for it… Hawaii! Brian is starting an Instructor Development Course this week. Good job!
regards
Tony Lindeque
076 817 1099
www.learntodivetoday.co.za
www.learntodivetoday.co.za/blog/
Diving is addictive!
To subscribe to receive this newsletter by email, use the form on this page!