Hi divers
Weekend plans
For a change the weather looks good for the weekend. I cancelled last weekend but that was a mistake as the conditions turned out to be good (loud self inflicted slap). The wind won't be too strong, and the swell is from the south east which means flat sea along the Atlantic seaboard. I would like to dive North and South Paw on Saturday from OPBC and possibly do a double tanker to Justin's Caves on Sunday. Text or email me if you want to dive.
Last week's diving
Wild wind and grumpy sea in False Bay has had us on the Atlantic coastline most of this week. We have done a few trips to Duiker Island and spent an afternoon just off Oudekraal. The water is cool and clean.
We did manage a warm(ish) dive in False Bay on Tuesday when we were fortunate to take two media people for a dive along the new shark exclusion net in Fish Hoek. It was spring low tide so we could almost have walked out to the end of the net, but the idea was to get some photos and a positive story out on the merits of the net, the work involved in deploying and retrieving it and the conservation efforts behind it all. An article appeared in yesterday's Cape Argus – you can read it here and see some photos from the day on facebook.
Sevengill cowshark project
There is a huge amount of work going on to try and establish a photo ID project for the sevengill cowsharks that hang out at Shark Alley. Its a dive most people really enjoy and very little is know about their movements and habits. Please go and like the project's facebook page and if you have anything to contribute… info, stories etc… please do so! All the information about what is required for the project can be found on the facebook page.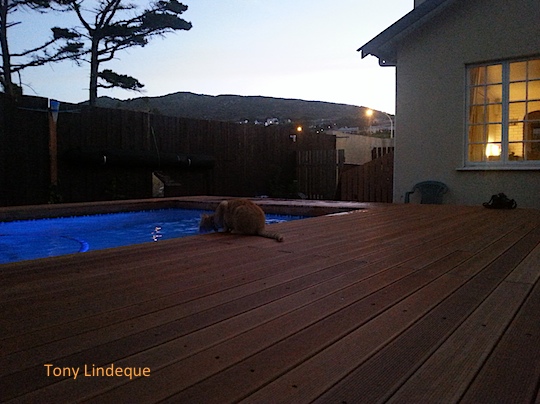 Festive season diving
Lots of public holidays and annual leave happening over the next few weeks means we will try and schedule more weekday diving than normal. I will send out text messages if I schedule dives in between newsletters – let me know if you don't usually get texts from me (and want to), and I will add you to the sms list.
Things are looking so good at home now – we just got the pool deck finished – that I'm looking forward to spending some time doing confined water skills with my Open Water students too!
regards
Tony Lindeque
076 817 1099
www.learntodivetoday.co.za
www.learntodivetoday.co.za/blog/
Diving is addictive!
To subscribe to receive this newsletter by email, use the form on this page!