This wreck is so spectacular from above the surface that I did a separate post with photos I took prior to this dive. It's situated in Maori Bay, just outside Hout Bay. You can't miss it!
The helipad at the stern of the vessel collapsed in September 2010 (in the Google maps image here, the helipad is still intact – it's the circular feature on the left), and this seems to have stabilised the wreck quite significantly. Last time I was in Maori Bay the crane was creaking ominously in a strong swell, but she was silent on the most recent visits I've done.
Tony has not been an enthusiastic Atlantic diver since his arrival in Cape Town in late September 2009. He's used to the warm seas of Jordan, Sodwana and Mozambique, and while False Bay is chilly but tolerable, he found the Atlantic unbearable. Dives like this one, however, have been changing his mind. Combine 25 metre visibility with an industrial wreck of monumental proportions (both above and below the surface) and he's in heaven. He says it's one of the best dives he has ever done.
The wreckage is identifiable in many cases – as staircases, the helipad, causeways and the components of the crane – but much of it is completely mangled. Large sheets of metal are curled at the edges like paper held to a flame. Wreck penetration is a definite possiblity here – with great care, but there are certainly opportunities.
The size of the crane is such that one could spend a lifetime exploring the site and not get bored. We didn't even get to the SS Oakburn, which lies under the stern of the BOS 400 and is a much older wooden steamer, very broken up.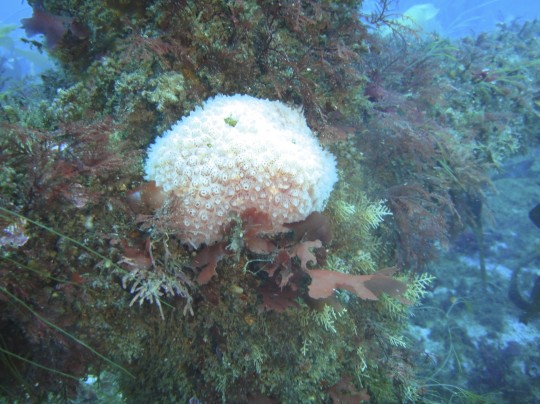 As far as sea life goes, there's a fair amount of lush red and green seaweed. I found some friendly klipfish and lots of West Coast rock lobster, but the main attraction is the wreckage so I didn't spend  a lot of time looking at small areas or really close to things.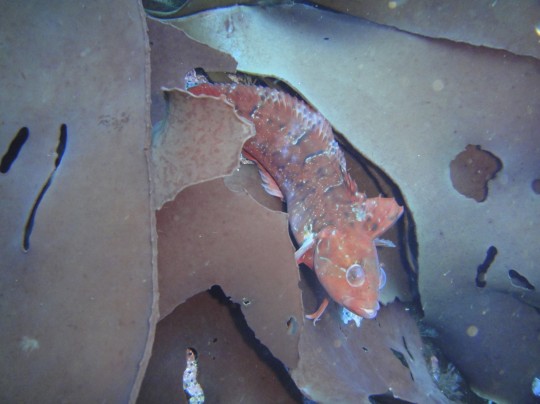 The contrast of the sandy-bottomed bay peppered with round boulders behind you, and the massive metal hulk in front of you, is stunning. We'll be back!
Dive date: 16 December 2010

Air temperature: 23 degrees

Water temperature: 7 degrees
Maximum depth: 23.9 metres
Visibility: 25 metres
Dive duration: 37 minutes
If you're interested in visible shipwrecks, check out my ebook Cape Town's Visible Shipwrecks: A Guide for Explorers!