Some of Tony's students needed to do a deep dive, so we paid a visit to the SAS Transvaal in Smitswinkel Bay, on a gorgeous Sunday morning.
I was trying out a new seasickness remedy – ginger pills – although the sea turned out to be so benign I scarcely needed them. This particular experiment is going to require repeated observations before we can even draw tentative conclusions, unless I go out in a storm, pepped up on ginger capsules, and suffer no ill effects. But I'm reluctant to try that.
The SAS Transvaal was a naval frigate that was scuttled in 1978 using explosive charges. She is identical to the SAS Good Hope, which lies in the same bay. The wreck is long – nearly 94 metres – and quite broken up but still readily identifiable as a large ship. She makes an eerie creaking sound, which is at once creepy and wonderful. Auditory stimulation is rare on a dive (part of the reason I like diving…) but can be very special.
I've dived this wreck twice before, the most recent being in September last year with Kate and a big group of Tony's current and former students. (This also happened to be the very first dive I did with my Sony Cybershot DSC-TX5 camera.) There was far more light and visibility that time – the photos in the first half of this post are from that dive – hopefully you can see the difference in the water colour and amount of light.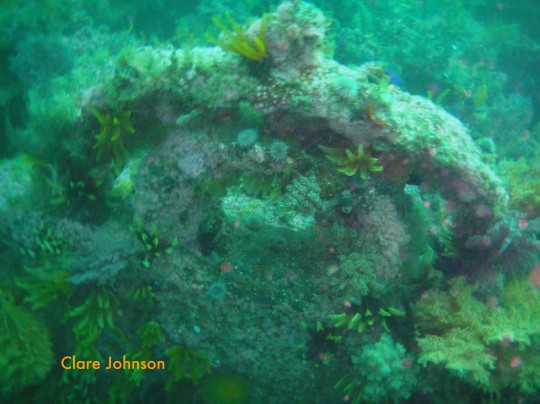 This time, we descended slowly, on the shot line. I was extremely wary of nitrogen narcosis, having had a bad experience on the wreck of the SAS Good Hope late last year. After orienting ourselves on the wreck, we dropped onto the sand so that the guys could do skills.
This time, it was dark, but the visibility was pretty good once we'd passed through a steep thermocline, above which the water was green and soupy. Once again I wished for a giant spotlight to illuminate the whole wreck at once – the dimensions of the vessel are astounding and the colours down there are spectacular, but all the reds, oranges and purples are totally washed out and only show up in a camera flash or torch beam.
There's a lot of soft coral adorning the wreck, including my favourite – the wonderfully named sunburst soft corals. They look completely grey until you shine a torch on them.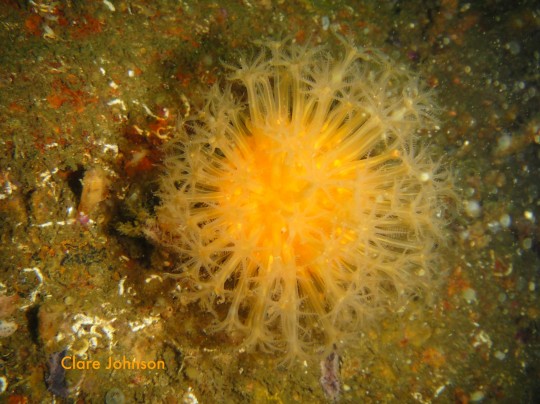 The ubiquitous mauve sea cucumbers were a prolific presence, as usual. They form a large component of the biomass at that depth, and are clustered in huge groups all over the wreck.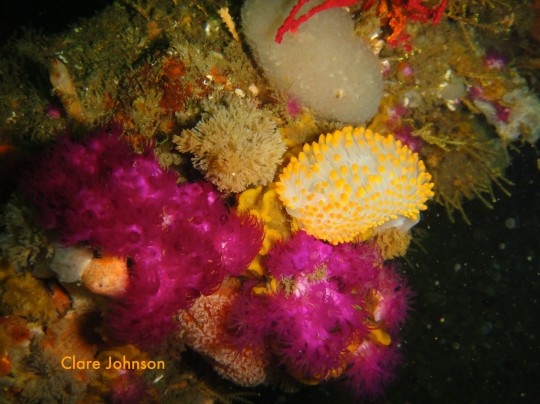 I found an orange gas-flame nudibranch, which made me very proud (it was the start of a nudibranch bonanza at Partridge Point later in the day…) and a pair of redfingers, who seemed to be having a fight (or courting) until I disturbed them. This isn't a great picture, but I can't usually photograph moving targets at all on deep dives, so for me it's a bit of an achievement!
These dives go so quickly – our air and bottom time were up pretty much at the same time – and we made a leisurely ascent, with Tony deploying a jumbo-sized SMB at the safety stop. While he was doing so, he dropped his knife, and I made a spectacular catch – I managed to perform an acrobatic swoop towards it as it tumbled downwards, all the while aware of my own depth and comfortable that if it went too deep I'd let it go. I felt rather smug after that and made sure that everyone had seen my moves once we were back on the boat.
Dive date: 6 February 2011
Air temperature: 26 degrees
Water temperature: 8 degrees
Maximum depth: 32.4 metres
Visibility: 8 metres
Dive duration: 32 minutes