Of the ten dives we did in Malta, two were boat dives, done consecutively on one of the days. Our diving companions were all Russian, which meant that Sergey gave us our own personal dive briefing in English, and then switched to more stentorian tones to deliver the Russian version, with the assistance of Peter G. Lemon's Malta diving book. The first of our boat dives, which were done in such style and comfort that we did not want the day to end, was to the Imperial Eagle, a small ferry that was deliberately scuttled as a diver attraction.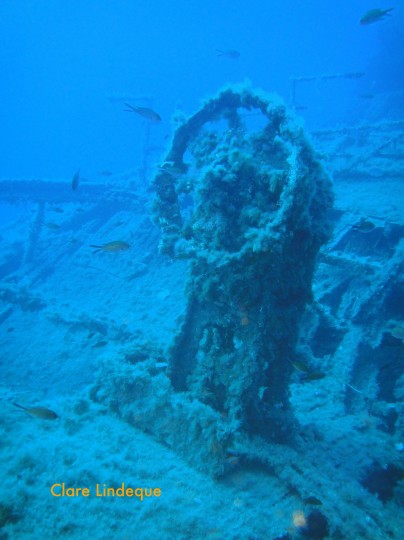 The Imperial Eagle is 45 metres long, 9.2 metres wide, and was 257 tons, powered by two oil engines. She was first launched in 1938 in England. The Imperial Eagle was a car and passenger ferry that could accommodate 70 passengers and 10 cars. Her maiden voyage between Malta and Gozo was in 1958, and she continued on this route for ten years. Afterwards she was used to transport cargo and animals between Gozo and Valletta.
In 1995 she was sold to the local diving community, and was scuttled 500 metres off Qawra Point in 40 metres of water on 19 July 1999. The intention was that the vessel would form the main attraction in an underwater marine park. The vessel is colonised by large numbers of fish, who take shelter around it rather than trying to hide in the exposed, crystal clear waters around the ship.
We dived the Imperial Eagle off a traditional Maltese boat called a luzzu.Boat diving in Malta is done off a variety of vessels (basically, anything that floats!) but we were very charmed with the colourful hull and spacious accommodations of our boat for the day. Entry into the water was via a giant stride, and to exit one removes one's fins and climbs up a small ladder on the side of the boat. The boat moves very slowly, and our surface interval was spent driving to L'Ahrax Point, location of our second dive that day.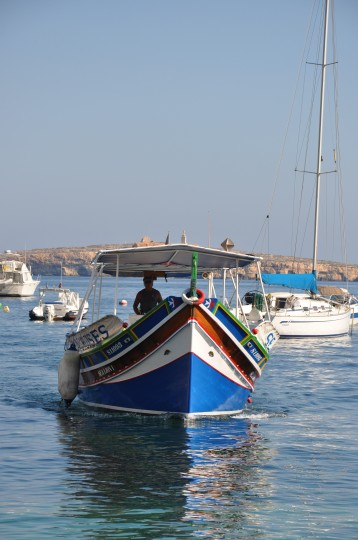 There is a permanent buoy close to the wreck's location, and on the way to the wreck one swims past the statue of Christ, located in a natural stone amphitheatre. The wreck is quite deep, and we did notice a distinct set of thermoclines as we descended. Since the coldest of these took us to a water temperature that is more or less the warmest we usually experience in Cape Town (and that usually coupled with Pronutro visibility), we weren't fussed. Nitrox is an advantage on this site, and we used 32%. The wreck is of a very manageable size to see in a single dive, and is fairly intact but showing signs of her age.
Dive date: 3 August 2011
Air temperature: 31 degrees
Water temperature: 18 degrees
Maximum depth: 37.0 metres
Visibility: 30 metres
Dive duration: 35 minutes