I've dived the MV Rockeater once before, on the first dive of my Wreck Specialty course. Unfortunately my camera – while safely inside the housing – had its lens cover closed, a fact which I only discovered when I was 20 metres below the surface. We did another dive here in early May, with some of Tony's students. This time my camera was on!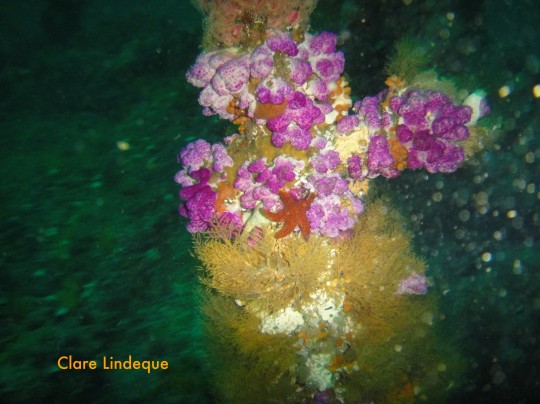 The Rockeater was used for doing seabed surveys, and was equipped with a drilling derrick and a helicopter pad. The former was removed before scuttling and now lies next to the wreck. I particularly like this dive, and it might be my favourite of the Smitswinkel Bay wrecks, because the ship is full of features not seen on the other wrecks (which are fishing trawlers and naval frigates). It's a wide, bulky ship with lots of stuff sticking out of it.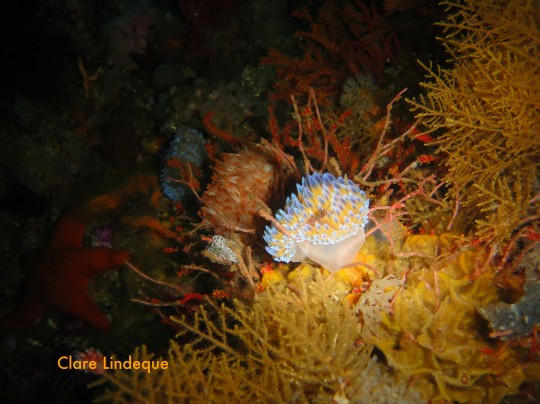 Like the other wrecks in Smitswinkel Bay, the Rockeater is heavily encrusted with invertebrate life. There was a dirty surface layer when we dived her this time, but the visibility at the bottom was quite special despite the relative darkness. I experimented with turning the flash on my little camera off to try and get some wide angle shots – I met with mixed success. The colours are washed out (as expected), but you can get an idea of the scale of the vessel. My camera (a Sony DSC-TX5) is very good in low light – if I can keep it still, I expect this method will work quite well in good visiblity.
We spent most of the dive on the bow of the wreck. There are large pieces of railing sticking up, and I was amused to observe Kate spend a good few minutes assessing a gap to decide whether she could fit underneath it. She did!
Dive date: 2 May 2011

Air temperature: 19 degrees
Water temperature: 10 degrees

Maximum depth: 29.8 metres

Visibility: 10 metres

Dive duration: 29 minutes