Hi divers
Launches
Friday: Roman Rock and Photographer's Reef , and a night dive at Long Beach. Text me before 10am on Friday if you want to do the night dive.
Saturday (at the crack of dawn): Ark Rock wrecks and Phoenix Shoal
Monday: divers' choice and Shark Alley
The week's dives
We were boatless last week so could do shore dives only, but by Friday the boat was back after repontooning.
This week we have been blown out most days, but today we headed off to Diaz Beach inside the Cape Point Nature Reserve with a group of very tough and brave swimmers that swam from Diaz Beach to Buffels Bay, a distance of approximately 8 kilometres around the tip of Cape Point. The swim was called Swim for Hope and was in aid of the Little Fighters Cancer Trust.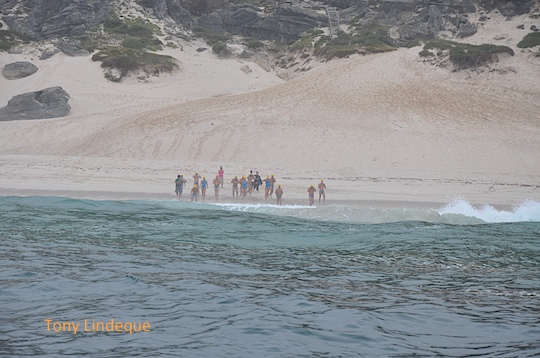 Each swimmer had a support boat and each boat had a shark shield, but there was nothing to shield them from the cold or the huge shore-break they faced at the start. Once round the Point the wind eased and the swell dropped and it was far better. Our swimmer, 61 year old Richard Child, swam tirelessly and had nothing more than a few swigs of hot chocolate on the way. He started with a stroke rate of 70 strokes per minute and ended on 68. Very impressive.
Weekend dives
Tomorrow is a good westerly wind, this will improve the viz inshore so we will do two dives tomorrow from the boat and then a night dive at Long Beach. There is a fair swell this weekend so I think Long Beach would be the best option . Saturday we launch again but it will be really early as the wind is set to pump from midday. On Sunday we are staying home while 35,000 very energetic cyclists compete for space on the peninsula road network.
On Monday we are also launching, and the first dive has not yet been decided (if you book first you get to choose!) but after lunch we will run down to Pyramid Rock to see the cowsharks.
Courses and travel
Currently busy with Open Water, Enriched Air, Rescue and Divemaster. The Sodwana trip is creeping up on us – twelve of us will head off for some warm water on the 26th of April.
regards
Tony Lindeque
076 817 1099
www.learntodivetoday.co.za
www.learntodivetoday.co.za/blog/
Diving is addictive!
To subscribe to receive this newsletter by email, use the form on this page!