Hi divers
Last night was the eighth international Diversnight. The aim was to get as many divers in the water as possible at 8.12pm, worldwide. We participated, diving below the jetty in Simon's Town and really great conditions. 20 divers in total and a big thanks to OMSAC and Cape Scuba Club for joining us. Its not to often you can dive in the basin there as there is a fair amount of boat traffic during the day. The conditions were great given the winds we have had this week and the water was a clean 6 plus metres and 16 degrees. Thanks to Shaheen for being our official photographer!
The past week has been a very dry week with very little diving but the weekend looks exceptionally good. Last Saturday we took the boat out from Hout Bay to dive the Maori and the BOS 400 but the conditions in the bay were not that great and I felt it was too unsafe to dive. Whilst we were there we were visited by a pod of dolphins and spent 30 minutes on snorkel whilst they allowed us to swim with them. This was an awesome experience as they were very relaxed and swam really slowly amongst the divers and around the boat. There are more photos here.
This weekend
The wind finally drops, the swell turns to a westerly and I think False Bay conditions will be great. The water colour has remained blueish all week and I think the sites south of Simon's Town should have great visibility. It also beats the cold Atlantic hands down and the temperature there this week has been between 8-10 degrees celcius.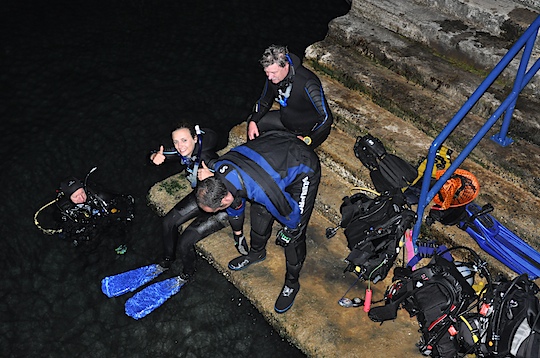 I have quite a few courses  (Open Water, Advanced, Rescue) running right now so we are aiming for a lot of diving. Saturday we will be at Long Beach for Open Water and Rescue training and Sunday we will launch from the yacht club at 9.00 and 11.30.
regards
Tony Lindeque
076 817 1099
www.learntodivetoday.co.za
www.learntodivetoday.co.za/blog/
Diving is addictive!