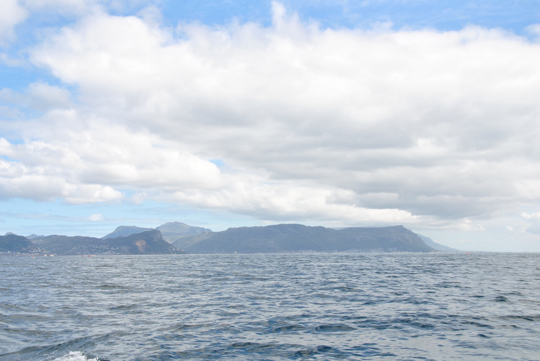 Date: 20 December 2014
We have been following the work of two young photographers, Mac Stone and Joris van Alphen, who were recent recipients of the 2014 Marine Conservation Photography Grant from the Save Our Seas foundation. Both of them arrived in Cape Town early in November last year to commence work on their photojournalism stories: Mac's is on sharks, and Joris is interested in the reef fishes of False Bay, in particular Red roman.
We felt quite sorry for them – November and December are historically months of appalling visibility and surface conditions in False Bay thanks to the south easterly winds that prevail, and November always seems to play host to at least one massive storm to top things off! Despite having to work with the worst of what False Bay has to offer, the two of them have produced some incredible images, and I've admired their persistence and creativity in dealing with murky visibility and adverse surface conditions. (You can follow them on facebook to get regular updates – Mac and Joris.)
Joris was on the boat just before Christmas, getting some of the final set of photographs that he needs for his reef fish story. On this particular trip he wanted to photograph fish on the hook: False Bay is the site of both commercial and recreational fisheries, land and sea-based. Our aim was to track down a Kalk Bay fishing boat that he'd worked with twice already, but they were nowhere to be found (despite being large and yellow, and despite us searching all the way down to Cape Point)! Hailing them on the radio was futile as they likely did not want to broadcast their position.
As a consolation prize, Joris and his personal shark spotter Brandon were able to spend time in the water with three recreational fishing boats. The first two were at Batsata Maze/Smits Reef at the southern end of Smitswinkel Bay. The crew of both boats were using handlines to catch roman and hottentot. The sea was quite choppy and working in close quarters to a pitching boat strewn with fishing lines was challenging. The fishermen were very kind and co-operative! Brandon's presence was necessary because Joris was on the surface, absorbed in his work, next to boats that were hauling twitching fish onboard, and throwing back fish guts and bits of bait (basically chumming). All these things are very interesting to men in grey suits.
The third boat we found fishing with rod and reel on Caravan Reef, the large, shallow reef that lies close by to the south and east of the wreck of the SAS Pietermaritzburg. We were now a bit further north in the bay, and the large swell that we'd experienced at Cape Point and Smitswinkel Bay had been modified and reduced on its path towards Muizenberg. It was calmer in the water, though the visibility was still only 2-3 metres. Joris was looking for split shots, with fish half in and half out of the water, and it seemed to be getting easier.
I had a great day tagging along on the boat, but my interest in the scale and nature of the fisheries in False Bay was piqued, and if I manage to find out anything of interest I'll share it here. Did you know that both commercial and recreational fishermen visit the reefs that we dive on, and remove the fish that we like to look at? Those in the no-take zones are obviously exempt (apart from the occasional chancer or ignoramus), but we found commercial fishing boats inside Buffels Bay in the Cape Point nature reserve, close to shore. There was a fisheries patrol boat close by, but they were not prevented from fishing there. I found this puzzling and troubling, because when we visited the Cape Point reserve as recreational divers, we had to jump through a variety of bureaucratic hoops just to be allowed to drive a boat through the reserve with dive gear on board! Never mind taking fish out of the water! More to follow on this subject – and perhaps Joris's story will also help us to understand this issue better.