Early on the morning of Wednesday 13 November, the remains of a whale washed ashore on Danger Beach at St James. For reasons well known, in Cape Town it's tricky to leave a whale on a beach or to tow it out to sea and dump it there, much as this would be an ecological boon. The SA Navy attempted to tow the whale to Simon's Town harbour for removal, but ran into engine trouble.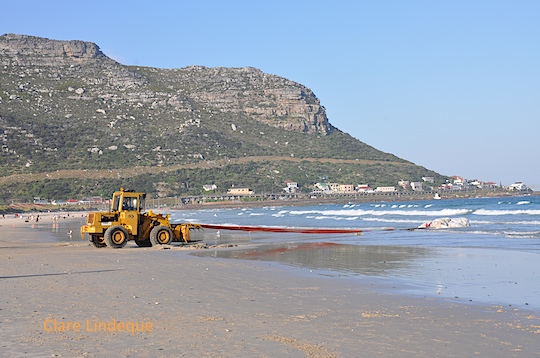 Fortunately one of the local shark cage diving operators was able to supply a suitable boat to continue the tow. Shark Explorers took the whale as far as possible, but the wind was coming up and the carcass was very heavy. It was decided to drop the carcass off at Fish Hoek beach and remove it from there.  Two of their crew swum the line attached to the whale to the beach, where it was attached to a front end loader. The front end loader was attached to a truck, and much of this ensued:
[youtube="http://www.youtube.com/watch?v=TXI_dXyvJUc&w=540″]
Several hours later the whale was at the top of the beach, on the edge of the parking area. The front end loader was now behind it, shoveling the carcass forward.
[youtube="http://www.youtube.com/watch?v=-J9HgsjE96o&w=540″]
When the whale was close enough to the flat bed truck, it was attached to the winch on the truck, and hauled up onto the trailer. The trailer was backwards, not attached to the truck, so the winch line had to be taken over the top of the trailer to the ground. There is movement in this last video, but it's very slow!
[youtube="http://www.youtube.com/watch?v=6SxCVyc7dLA&w=540″]
The operation was smoothly handled with great professionalism. This is not the first time, and won't be the last, that local authorities have had to remove large cetacean remains from our beaches. Muizenberg, St James and Fish Hoek beach were closed for much of the next couple of days owing to increased shark activity as a result of the bits of whale and oils in the area. Tony saw some large chunks of blubber floating at Long Beach when he dived the following day, too.
Here are some photos we took of the removal process. In between sunset and darkness, when there's an obvious gap in the sequence, we went home to have dinner! Shark Spotters also put an album on their facebook page that shows the process from start to finish (our album spans 6-7.00 pm and 8-9.00 pm).
We much prefer seeing whales that look like this, or this, or this!