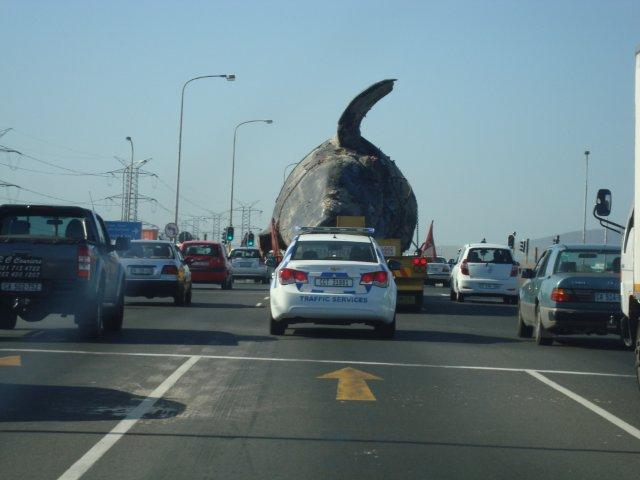 While we were away looking at live whales near Hermaus, a dead southern right whale adult washed up on Capricorn Beach near Muizenberg. It's not clear at this stage what caused the whale to die. The whale washed up in the early evening of Sunday 7 October, and was removed the following day after nearly 18 hours of struggle by the Department of Environmental Affairs and the City of Cape Town. There are some pictures of the whale on the beach, and the operation to remove it, here.
Maurice sent us these photographs of the whale on a truck on Vanguard Drive, being transported to the Vissershok landfill. I don't know who took them – if it was you, let me know so we can give credit where it is due!
While we were sad that the carcass was taken to a landfill rather than towed out to sea for the sharks and other marine life to feed on (a whale fall can sustain an ecosystem of its own for up to 70 years – watch this video to see how), I can understand the reasoning. The prevailing summer winds in Cape Town are onshore, and the dead whale would probably have ended up on or near a beach once more. This is very exciting for sharks, but not so much for water users. A number of beaches were closed on Monday 8 October as chunks of blubber bitten free by white sharks were floating about in the area, and increased local shark activity was noted by the Shark Spotters.
News reports on the subject claim (to a man) that the whale was 30 metres long. Southern right whales attain a maximum length of about 15 metres (weighing up to 45 tons), which the briefest of fact checks would have revealed. Only blue whales reach 30 metres at their maximum size. This southern right whale looks fully grown, and you can see the sheer size of its head in the first photograph in this article, where Alison Kock (I think!) of Shark Spotters is standing looking at it. I find it upsetting to see a whale in this state, but it's also fascinating to get a close up look at what these massive creatures look like out of the water
It's important to remember that when a whale or other marine mammal dies, its body will often float and be washed ashore. This is a natural process. (What isn't natural is when animals beach themselves because they're confused by undersea weapons testing, sonar or other auditory disturbances created by human activity.) It's only because of our proximity to the ocean and use of it for swimming, surfing and diving that a dead whale on the beach causes a bother. It smells bad after a while, and attracts marine predators who may interact negatively with human water users. If no one lived on the False Bay coastline, this whale could have stayed on the beach, decomposed, and returned its nutrients to the earth right where they belong.