Clare is not good at early mornings, but I love to see the sun rise, and one beautiful Saturday just before Christmas – when visibility was unfortunately too poor to take divers out – I took Seahorse to False Bay Yacht Club at first light. The day turned out to be quite hectic for other ocean users, but I was able to calmly observe the action.
I started with a quiet tour to Ark Rock and past Roman Rock lighthouse. I spotted a lone baby penguin heading home to Boulders Beach. He was making quite a lot of noise, telling me where he was going.
Abandoned rubber duck off Cape Point
The NSRI were out and about for a surfski race (see below), but their rescue boat was called away owing to reports of an abandoned rubber duck, found 4 nautical miles off Cape Point by fishermen. The tiny duck was towed (at high speed) back to base, where several sets of dive gear were found on board. The boat was handed over to the police, and it's a mystery whether or not they located the owner.
Cape Point Challenge
Once they had towed the rubber duck, the NSRI went back to monitoring the Cape Point Challenge surfski race. This race involved a paddle from Scarborough, around Cape Point, into False Bay and up to Fish Hoek. I spotted Gary, our neighbour and Divemaster candidate, looking strong.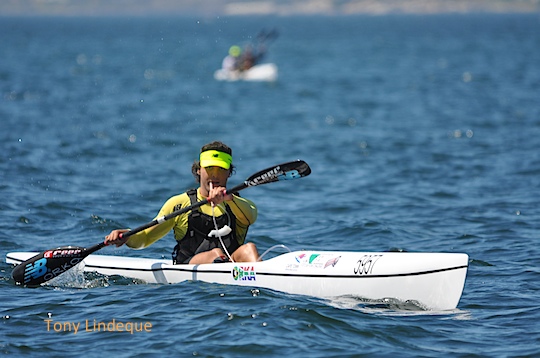 Governor's Cup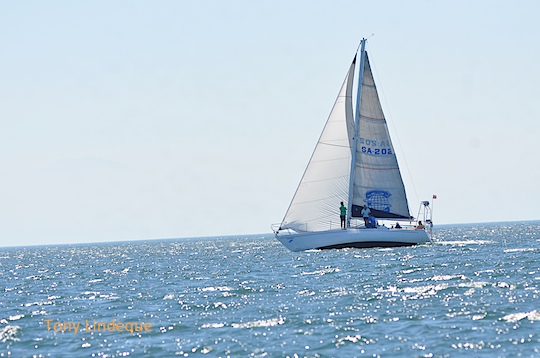 When I decided to call it a day and return to the Yacht Club I was faced with a small challenge. 22 December happened also to be the starting date for the Governor's Cup yacht race from Simon's Town to St Helena island, several thousand kilometres away. There was a lot ofboat traffic, and I had to queue for the slipway for quite a while. There were the race participants, as well as a large number of smaller sailing and motor vessels seeing them off.
Sophie, our diving buddy who has travelled with us to Sodwana before, happened to be on one of the yachts. Fortunately it was such a beautiful day I didn't mind waiting.