Hi everyone
Sodwana weekend has come and gone. We stayed at Coral Divers, a large dive camp quite close to the beach. The accommodation was in safari tents and wooden cabins, and the camp site was filled with monkeys who watched our every move – especially during meals! Dives in Sodwana are done via surf launches, so we had to help push the boat into the water, and then jump on before the skipper took us through the waves.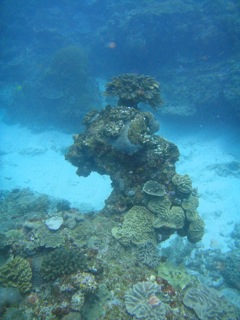 The reef we spent most of the time on, Two Mile, is a short boat ride out, and has the most incredible coral formations and colourful tropical reef fish. We were lucky to see a white tip reef shark on the deep dive. A few of us managed to squeeze a third dive in on Saturday and were lucky to see two huge turtles. We also had about 50 odd devil rays swimming in formation overhead on the last dive on Sunday.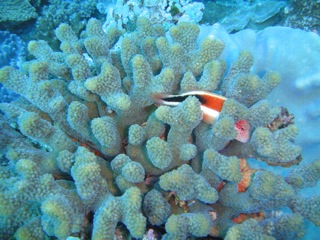 To everyone that made the trip I would like to say thank you. The diving was great, the drive and flights entertaining thanks to our resident clowns and jokers and we all had fun. Congratulations to Gerard, Tami, Sophie and Justin, who are now all pretty much done with the Advanced course and qualified to dive to 30 metres.
Several awards due here.
Strangest behavior award: Fritz for struggling to adjust to the water in his hair (never dived without a hoodie before)
Musical award: Gerard AKA Giraffe…  for singing "how to throw up" songs for the seasick passengers
Where is my weight belt award: Sophie, for forgetting her weight belt every day
Picasso award: Tami, for changing my fin colour to pink seconds before the dive
SMB perfection award: Justin Gootman for sitting at the safety stop with a perfectly inflated and stable SMB on the first attempt.
Best hair band award: Mariaan… for having a hair band wider then her head.
Gaudy wetsuit award: Justin J for the brightest wetsuit on the beach.
First lady of chum award: Clare, however this was closely contested by Tami, Mariaan and Justin G
We will definitely be organising more trips like this in the future, possibly the first week in December so keep an eye on the newsletter for more details.
Diving this weekend
I have an Open Water course running this week with an Australian pair, and a new course starting on Saturday for a Swede, plus three students doing their qualifying dives this weekend. Saturday morning we will slot in a Discover Scuba diving group of three so there is one spot left. Saturday night I will do a night dive if the weather permits.
We will also continue the Rescue course this weekend so if you see me flailing around in the water looking like a panicked diver… It's practice… Don't rush in and rescue me unless you have coffee and doughnuts!
Thursday we have a Zero to Hero course starting for a British student. This is a diver doing all the courses from Open water all the way to Divemaster, including sixty dives in 60 days. So you can be sure of finding us diving almost every day to achieve this.
regards
Tony Lindeque
076 817 1099
www.learntodivetoday.co.za
www.learntodivetoday.co.za/blog
Diving is addictive!