If you'd happened to look out to sea from Long Beach, Kommetjie just after lunchtime on Saturday 23 August, may have seen – just at the limits of your sight – a group of 20-25 surfers, sitting on their boards in the middle of a flat ocean. If you'd continued watching for a while, you would have seen giant sets of swell rolling through the group of surfers, and, as the afternoon progressed, you'd have seen more and more of those waves being surfed.
The waves were breaking at Sunset Reef, an outcrop shaped like a wedge about one kilometre offshore from Long Beach. There is a lot of kelp in this area, and it isn't particularly deep, but the deep water is not far away, which has something to do with why this wave stands up the way it does. It's not Dungeons by any stretch of the imagination (and on this particular day, one of the surfers told Tony that the wave was a "four out of ten" for size), but for a recreational surfer, or me – who doesn't surf – it's a remarkable sight.
There were long lulls between the sets, and after a while I started to get disoriented and forget where the wave breaks. Later in the afternoon, the waves got bigger and bigger, and once the surfers started to stand up on the waves we could see just how fast they were moving. Some of the surfers stayed further inshore, and just did short, speedy rides on the shoulder of the waves as they came past, looking relaxed and loose limbed as they caught a ride closer to the beach.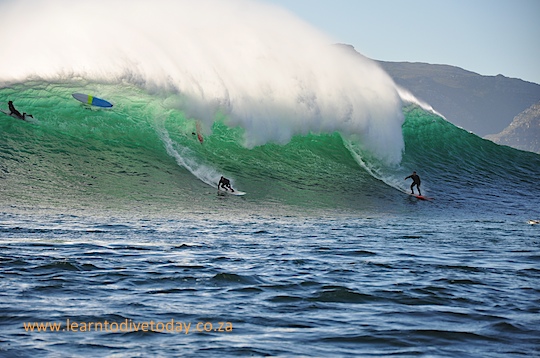 In the distance, below Slangkop lighthouse, we could see a parade of swells and breaking waves at another shallow reef. We had a wonderful time, enjoying the display of natural power, as well as being entertained and awed by the surfers.
There are some lovely pictures of our boat, taken by Grant Scholtz, in last week's newsletter, and an album of photos on facebook.