Having done most of my diving in warm water I arrived in Cape Town armed with a 5 millimetre thick one piece wetsuit and a shorty to go over that, also in 5mm. This wetsuit had served me well and had done well over 700 dives. Being a custom-made suit it fits like a glove. The hoodie is attached to the shorty. I wanted it like that as I find a hood attached to the wetsuit makes my head feel spring loaded, and when turning your head it always feels like it wants to spring back.
It now has now done its time, has a few leaky holes and is fast becoming scruffy, as this photo Clare took on a dive we did on the BOS 400 demonstrates.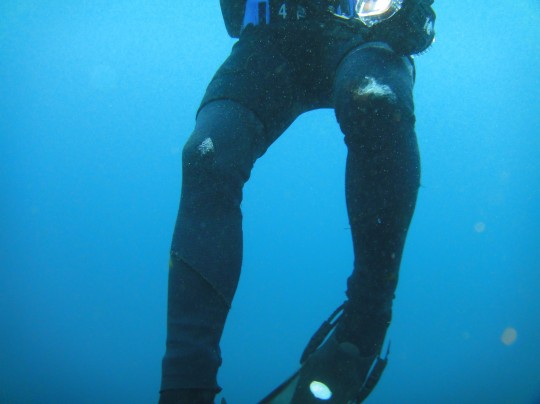 Neoprene also breaks down eventually, it becomes waterlogged and looses its density and insulation properties. It now feels like a 3mm wetsuit and I get cold.
So what next, a new wetsuit, or a dry suit? (Or both?!)
Drysuits
The idea of a drysuit is very appealing, aptly named, it keeps you dry and you could go for a dive dressed in your Sunday best. The right thing to wear under a drysuit is an undergarment designed for the job.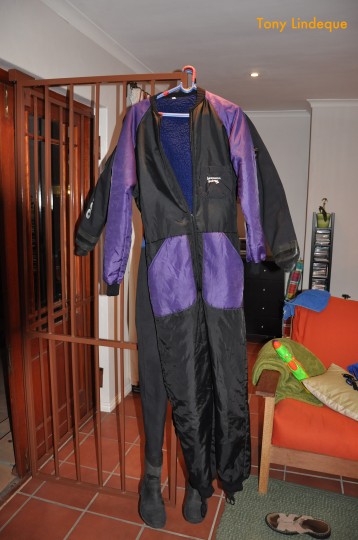 These garments are most often fleece-lined and keep you warm.
Neoprene or silicone rubber neck and wrist seals ensure no water enters the suit in these places and the boots are attached and part of the suit. A large watertight zipper opening allows you to step into the suit.
Drysuits have a few more tricks, an inflator on the chest (most often) allows you to trim your buoyancy by putting air into the suit. This also prevents the suit from squeezing you at depth.
An adjustable deflate button, sometimes several, allow you to vent air or, set correctly, will vent automatically. An extra hose is required for your first stage and a good idea is to do a course on drysuit diving before you head off to the ocean. Most drysuit suppliers will give you an orientation dive with the purchase.
We dived in the Atlantic the first time I tried a drysuit in Cape Town, a windy day with a long boat ride, 6 degrees celcius on the bottom and I was warm as toast.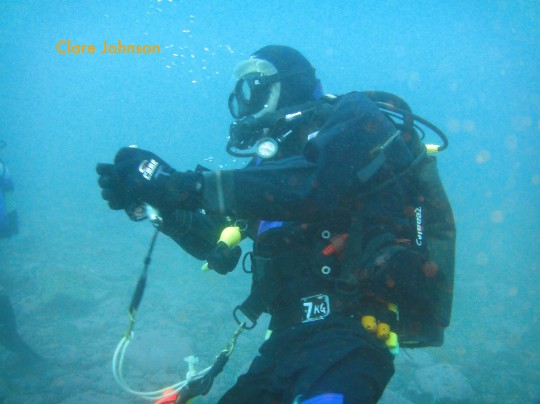 Wetsuits
A decent wetsuit is also very good at keeping you warm and does not have the added buoyancy concerns of drysuits, nor does a small leak turn your dive into a freezing disaster.
Mares, a brand of dive gear, exceptional quality, not the cheapest, but most definitely one of the best, make this wetsuit. Called a Flexa 8-6-5 it has 8mm on the torso and on the upper legs and arms, 6mm on all the body joints, so your knees and elbows bend easily, and 5 mm on the rest. It has a built in back pad that give you extra padding where your BCD back plate sits against your body and very snug neck, wrist and ankle seals. I do like the front zip, but I don't like the stiff velcro attachment on the neck and may have this removed.
The water on the first day I tested the suit was 14 degrees celcius and I did two dives back to back, spending just under an hour and a half in the water, without feeling cold at all. The subsequent dives I have done in it have been a pleasure.
I know there are a lot of very good wetsuits available and both Reef and Coral will custom make a suit perfectly, but personally I rate this suit as one of the best.