Adventures in Ocean Exploration: From the Discovery of the Titanic to the Search for Noah's Flood – Robert D. Ballard & Malcolm McConnell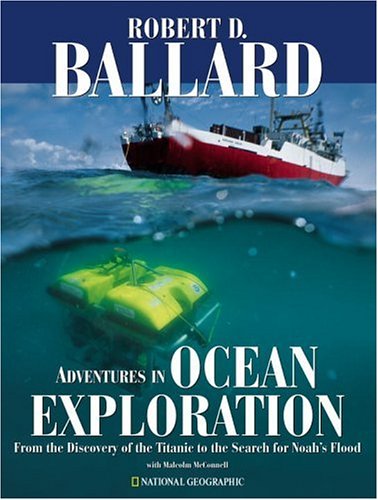 I read this book while sick in bed one weekend, wishing I was diving. Robert Ballard has lived a life of exploration and adventure, and has had a pioneering role in the use of submersibles – both manned and unmanned – in deep sea mapping and exploration.
This is a large-format, lavishly illustrated book, as with the other National Geographic titles I've reviewed, that is a happy meeting between a description of some of the highlights of Ballard's varied career, and a history of man's relationship to the ocean. It's written in an entertaining anecdotal style, but with lots of solid historical background. The photographs are magnificent.
It's not the first of Ballard's books I would get hold of, if I was starting out a collection, but it's a good addition to the library of someone who is fascinated both by undersea science (the hydrothermal vents chapter is marvellous) and history. If you're interested in the process and results of deep sea submersible exploration, I'd take a look at Ballard's Titanic book first.
You can get hold of a copy of Adventures in Ocean Exploration here.