Hi everyone
Summer is closing in on us fast and the water is getting warmer, time to dust off your dive gear and get wet. The rays are back at Long Beach, whales are still around for a few weeks and the ocean is waiting for you to visit.
October has been a busy diving month. The trip to Sodwana was awesome and we are thinking about another trip early December or perhaps early January.
I have been lucky to have dived almost every day since the beginning of the month and congratulations to the following people on their certifications:
Open Water
Anna, Belinda, Richard, Gabby, Lorna, Kate
Advanced
Gerard, Justin, Kate, Sophie, Tami
Deep Specialty
Clare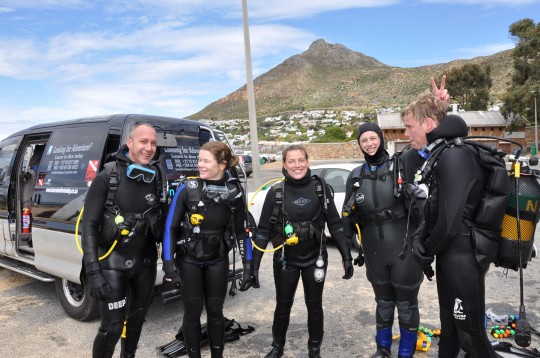 Kate is here from the UK doing the Zero to Hero program with me. She started on the 13th October and has done Open Water, Advanced, and is busy with Nitrox and Rescue. Next week she will start her Divemaster program.
On Saturday I will finish an Open Water course and continue with a Rescue course. Sunday the plan is to dive the sevengill cowsharks and Boulders, perhaps see a penguin underwater.
Saturday we are having a Halloween night dive.
These are the rules:
you must dive in a Halloween theme something or another… use your imagination
you must find treasure… I will hide several prizes during the day at the site we dive
to find them you must… use your imagination!
we will have an egg cracking contest… underwater… where you must crack and remove the shell of a raw egg gently, so the egg stays intact…
coffee and ( ) on the beach afterwards… plus you get to open the treasure you found…
November
I am going to run an Advanced open water course, a Wreck specialty, Night diver specialty, and a Deep diver specialty course during the month of November. Dates are 6th, 13th and 20th. The Deep specialty will qualify you to 40 metres and the Wreck specialty will include wreck penetration for those keen to explore the inside of a sunken ship. Night diver will give you great confidence is low visibility diving conditions.
The Deep and Wreck courses are dependent on boat scheduling and detailed dive planning so book early if you are interested.
Best regards
Tony Lindeque
076 817 1099
www.learntodivetoday.co.za
www.learntodivetoday.co.za/blog
Diving is addictive!