Hi divers
We had really good conditions last weekend despite the gloomy forecast. Saturday was spent at Long Beach doing dives one and two for Open Water students, and Sunday we dived the Brunswick and then Photographer's Reef. The visibility was good at the Brunswick apart from liberal quantities of bread in the water (thanks to one of the local grannies feeding the birds!) and around 5-6 metres on Photographer's but worse in patches.
I dived Monday, Tuesday and Wednesday in False Bay, doing Refreshers, some Discover Scuba Diving experiences and Rescue dives, and had 6 – 8 metre visibility with 17 degree water. There are several rays at Long Beach already.
Weekend dives
We are diving Roman Rock and Outer Photographer's Reef tomorrow but I think that will be it for the next few days as there is a big swell arriving tomorrow evening and it lingers for several days. The forecast wind and swell will turn False Bay a little wild and the only outing available for the weekend will be Dungeons, where the big wave surfers will treat you to some spectacular action. The last time we were out there the speed at which some of those waves build was quite amazing. I will go out on Sunday for a few hours, if you join then warm clothes, cameras and cling wrap are to be packed with the coffee and chocolates… Don't forget the chocolates.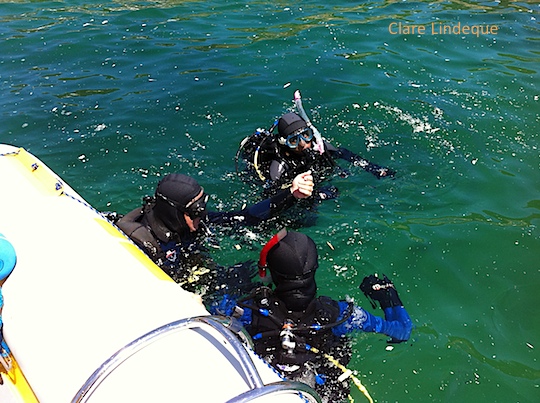 Courses
We will be doing Drift and Deep specialties as soon as the current Rescue course is completed. I am also starting Open Water, Advanced and Nitrox next weekend.
regards
Tony Lindeque
076 817 1099
www.learntodivetoday.co.za
www.learntodivetoday.co.za/blog/
Diving is addictive!