The rocky peninsula at the northern end of Maori Bay, on the opposite side of the bay to the MV BOS 400 crane barge wreck, is called Oude Schip. It can be reached by walking and bouldering from Llandudno, or, as we (predictably) prefer, on a boat ride out of Hout Bay. We are usually in the area with the aim of diving the wrecks of the Maori, the Oakburn or the BOS 400.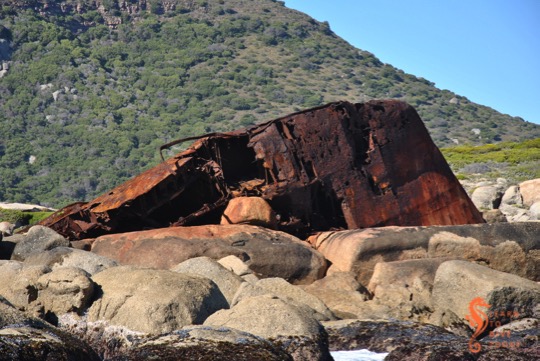 On the rocks at Oude Schip are the remains of a Sea Harvest fishing vessel called MFV Harvest Capella. This 44 metre long diesel trawler ran aground in early October 1987, apparently during a south easterly gale. There are some pictures of her aground here and here.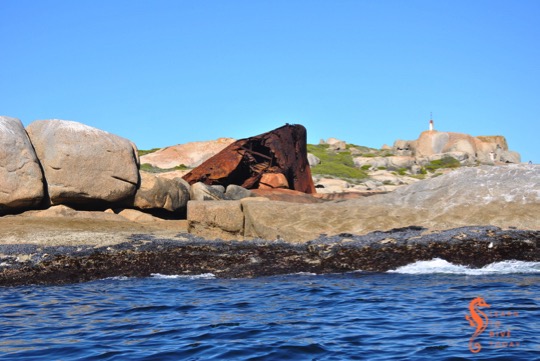 Over the years, part of her bow has been pushed right up onto the rocks by the force of the waves. At the same time it has been breaking up, and perhaps in a few years will be almost indiscernible. The wreckage is quite unstable, and not really suitable for clambering about in any more.
Next time you're in the area, ask your boat skipper to take you towards the rocks on the Sandy Bay side of Oude Schip to see how the Harvest Capella is looking these days!
If you're interested in visible shipwrecks, check out my ebook Cape Town's Visible Shipwrecks: A Guide for Explorers!