Demon Fish – Juliet Eilperin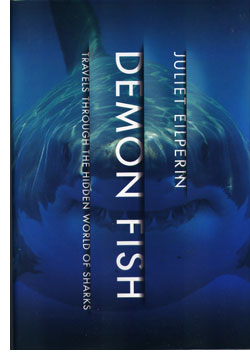 Reading this so close to Thomas Peschak's book Sharks and People made for an interesting juxtaposition of two books that are both concerned with similar subjects. Peschak makes his interest in the relationship between humans and sharks explicit in the title of his book, and goes on to explore it in a primarily visual manner.
Juliet Eilperin is an environmental reporter for the Washington Post, and despite the singular focus of its title, her concern in Demon Fish seems to be similar to Peschak's: sharks and people. I'm not sure if this is because, as an outsider to the world of shark research, shark diving, and shark conservation she had couldn't but focus on the human element of sharks' existence, or whether it was a deliberate tactic.
Whatever the reason for the book's focus, this is actually a very good introductory volume to give to someone who doesn't know much about sharks, and who may not understand the conservation concerns surrounding them. This is not a scientific volume, and may disappoint shark fanatics who purchase it expecting to be enlightened on shark biology. Eilperin provides some facts about a few of the better known (read: more charismatic) species of shark, but the bulk of the book comprises interviews with shark scientists (such as Neil Hammerschlag, Alison Kock, Sarah Fowler, and Barbara Block), fishermen, activists (including seriously legitimate ones like Sonja Fordham), and Asian players in the shark fin trade.
Eilperin dives with sharks in the Bahamas, eats shark fin soup, and travels the world putting together a picture of sharks' role in local economies – the lucrative fin trade, whale shark tourism in Belize, cage diving in Gansbaai, South Africa – and in human culture. After visiting a shark caller in Papua New Guinea, she traces the history of the 1916 shark attacks along the North Atlantic coast of the USA that did so much to shape our modern perception of sharks, and interviews Jaws author Peter Benchley's wife (he is deceased). An analysis of efforts to mitigate human shark interactions, lead her to Cape Town's Shark Spotters program, the Shark Shield device (formerly Shark POD) and the indiscriminate shark mitigation program of the KZN Sharks Board. The acknowledgements at the end of the book read like a who's who of shark researchers and conservationists (including the venerable Eugenie Clark). Ms Eilperin's research was thorough!
The book seems to have been reprinted as Sharks: Travels Through a Hidden World in the United Kingdom. I prefer this title, as Demon Fish seems a little bit exploitative and sensational, particularly given the fairly benign nature of the book's contents. There is a detailed and fascinating review of Demon Fish at the London Review of Books, an interview with Eilperin here, and a very short interview with her here.
Buy the book here if you're in South Africa, and here if you're not. If you want to read it on your Kindle, go here.