Date: 20 December 2013
A last-minute request from a local underwater videographer had me driving the boat over Chapmans Peak to Hout Bay just before Christmas, so that he could get some footage of Cape fur seals at Duiker Island. We had worked together before on the same project, and the conditions looked right to get the final few shots that were required.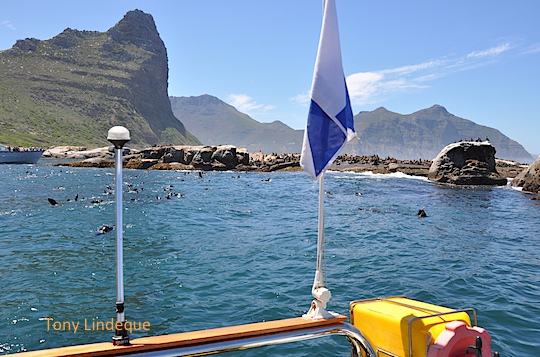 Unfortunately the water wasn't as clean as the recent south easterly winds would seem to suggest it would be, and there were the beginnings of an algal bloom that would destroy the visibility in hours. We spent a bit of time at Duiker Island, and then motored up the coast towards Llandudno, where another small seal colony offered some possibilities for getting footage.
The water wasn't much cleaner there, so the day wasn't particularly successful from a filming point of view. It was, however, a nice day to spend messing around on the water.