Listening to Whales: What the Orcas have Taught Us – Alexandra Morton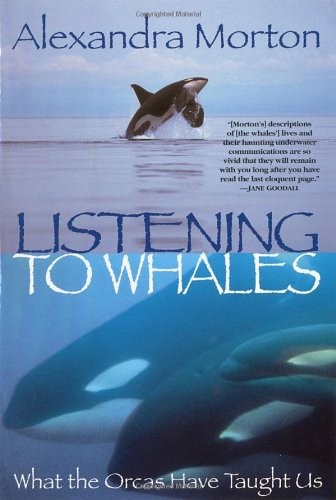 Listening to Whales is marine biologist Alexandra Hubbard's memoir of the thirty-odd years she spent studying wild killer whales, as well as other cetacean species. Morton was born in the United States, the daughter of a famous artist, but discovered her passion for cetaceans while working for eccentric dolphin researcher John C. Lilly. Her orca research took her into Canada's remote Broughton Archipelago, where she and her husband (who passed away during the research in a solo rebreather diving accident) lived a romantic, itinerant, lonely, and very challenging life following pods of wild orca around and studying their communication.
Morton also spent time in oceanariums and theme parks, observing and working with captive orcas and dolphins. Her insights into the trauma that these unnatural environments inflict on the animals held there are illuminating, and dovetail with the observations made in articles such as The Killer in the Pool and Blood in the Water, and Death at Seaworld.
When the orcas disappeared from British Colombia's remote waters, Morton wanted to find out why. She soon discovered the reason for their absence: there was a growing number of salmon farms, which started proliferating in earnest in the late 1980s, in the archipelago. The salmon farms used Acoustic Harassment Devices (AHDs) to chase away seals that preyed on the captive salmon. Since sound is of vital importance to orcas for hunting, echo location, and communication, the whales found the noisy environment unliveable and intolerable, and left the area. Morton's persistence (she wrote over 10,000 letters) led to the withdrawal of the AHDs starting in the early 2000s.
The salmon farms have affected the area in ways other than noise pollution. They generate massive amounts of physical pollutants (from excess food pellets, waste products, and antibiotics used to treat the farmed fish), reducing the water quality. The salmon are also prone to infestation by parasites. Because the farmed fish are kept in such close quarters, there is unchecked spread of diseases and this can spill over to wild populations. There are also potentially serious consequences if farmed salmon escape and breed with wild salmon populations. The fish farming industry is growing rapidly in both size and vogue, and there is massive financial incentive for companies (and government bodies) to cover up the shortcomings and failures of mariculture. Morton's work uncovering the abuses occurring in Canadian (and other) salmon farming continues to this day. She is a hero.
I think that if I'd had more access to women who were working as scientists when I was a child, my career might have panned out a little differently from the way it has. This is why I am very enthusiastic to discover memoirs by women who are respected in their chosen field, particularly when pursuing that particular field of study would seem to preclude some of the things that some people want, such as a stable family life. Whale scientist Elin Kelsey's book Watching Giants also falls into this category. Morton's life story is one of a wandering, resourceful, curious person who has managed to combine significant scientific output with a fulfilling life that has included raising two children, one of whom now works at NASA. Part of her son's childhood was spent curled up in the bow of the Zodiac his parents were using to track pods of orca!
I'd strongly recommend this book to girls considering a career in the natural sciences, and to anyone else who is interested in the ocean, killer whales, fish farming, or just in interesting lives well lived. You can get a copy here or here.