Buoyancy Control Device (BCD)
Buying a BCD is a huge decision. The difference between a rear inflation and a side inflation is significant. Do you want integrated weights or not? What about twin dump valves on the rear of the bladder? Lever inflation or button inflation? Back plate or not? If you don't know what all these terms describe then it is safe to say you are not ready to part with your hard earned cash just yet.
Regulator
If you plan to dive tropical holiday destinations for the rest of your life, then buy a light weight travel easy regulator without a huge three gauge console. But if you want to dive wrecks around the world, do some ice diving and go on to deep technical diving, you will have different priorities. The choices need to be carefully investigated.
Cylinder
A cylinder is a big part of your diving, so do you buy your own or just rent one each time you go diving? It is always nice to have your own of everything, but sometimes if you weigh up the cost of an item against the usage you will have it becomes a grey area. The same can be said for the purchase of any item classed as hard gear.
A 10 or a 12 litre steel cylinder costs around R3000 – R3600 depending on where you shop. Cylinders are also manufactured in aluminum but they are not nearly as popular as steel has become in recent years.
Rentals cost between R50 and R75 for a cylinder and some places will only charge for the second fill if you do two dives, so you can expect to pay R75 for a full cylinder and a further R30 to fill it for the second dive. At R50 a dive it would take 60 dives to pay for itself excluding fills, but had you dived with your own cylinder after 60 dives you will have spent R4800 if you add the R30 per fill.
Bear in mind a cylinder needs to have a visual inspection annually (about R70) and a hydro test every five years (R140 including a visual at the same time). Dive centers maintain their cylinders to this norm and you will need to do so for your cylinder if you own it. Most reputable dive centers will refuse to fill an out of date cylinder so you will need to have it done.
The decision to buy needs to be based on how often you dive. If you dive once or twice every other month then you will most likely be better off renting, but if you dive every weekend or several times a month, it will pay you to have your own as you will recoup this outlay within two years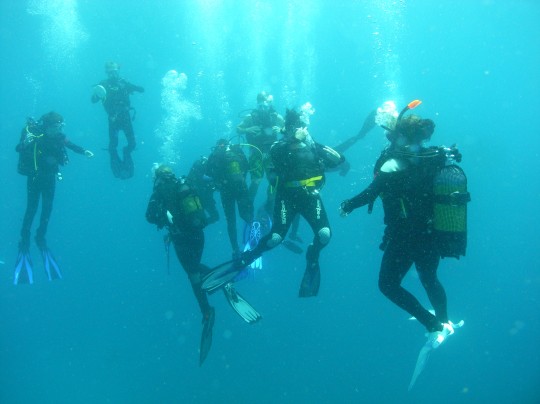 The last word
In my honest opinion the best gear to buy is the gear with the best back up service in your area. At some point, and once a year at least, your gear will need a service. Having bought a particular brand because the "service kits are cheap" is going to be of no value if the servicing agent has no stock, or does not have the correct tools. It is also important to know that the technician doing the work is competent and qualified in your brand of gear. Don't be fooled by the words " I have serviced hundreds of these". Discovering that the technician was perhaps not that good when your regulator fails at 30 meters may spoil your dive.