Booties
Buying booties is a safe bet as (unless you're still growing) your feet won't change size nor will they overheat in warm climates. If you plan to dive in Cape Town (or any other cold water location), rather go for a thick pair of at least 5mm – believe me, it makes a huge difference!
Mask
Buy an entry level mask so if it needs replacement a few months later it is not a huge financial loss. Besides, a spare mask is always a bonus. Before you decide on a mask try a black skirted mask (the skirt is the soft rubbery material around the glass) and focus on the angle of vision, then try a clear skirted mask and see how different the angle of vision is. Remember that the bigger the mask the greater the volume of water it will hold, so if you despised the mask clearing skill during your training avoid a huge volume mask if possible. Nothing spoils a perfect dive more than a leaky, uncomfortable mask.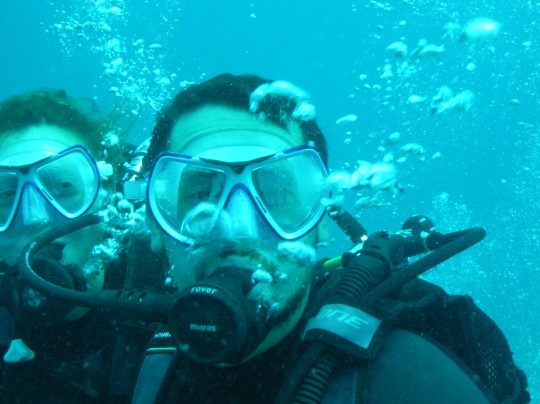 Wetsuit
If your body shape is not "average" (and very few of us are) then an off the shelf wetsuit will most likely not fit as well as a custom made one. Don't be fooled into believing that a custom made suit is way more expensive – it seldom is – and most wetsuit manufacturers will adjust, re-shape and modify the suit later to ensure a perfect fit. It's also fairly easy to adjust a wetsuit after the fact if your body shape or composition changes drastically. Ask a lot of questions before buying a wetsuit and try them all on. Too often the effort of getting in and out of a wetsuit in a dive centre makes the second or third one feel comfortable by default… you're too tired to keep going.
Some things to think about: where do you want the zips – front or back, straight or on the diagonal? How long should they be? Two piece or one piece? Do you want a separate hoodie, or do you want it attached to the suit? How thick should the suit be? What should the neckline be like?
Fins
Fin styles and size are varied and depending on your level of fitness, swimming skills and diving style, the difference between a huge heavy fin and a lightweight shorter fin will make a huge difference to the incidence of cramp whilst diving. Fins also affect your buoyancy and your profile underwater.