Hi divers
Weekend dive plans
No launches planned – diving on Tuesday and Wednesday next week!
The weekend has typical winter conditions. A long period swell of around 5-6 metres with 30 – 40 kilometre/hour winds means really rough and bumpy surface conditions, not the kind of conditions I enjoy diving in. We have no planned launches. Go flower hunting instead. (The flower in the picture, Hessea cinnamomea, only blooms the winter after a fire, and then goes dormant, sometimes for decades, until the next burn.)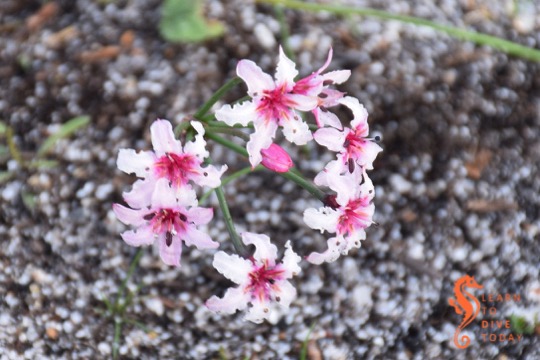 The visibility is decent and that won't change too soon. Tuesday and Wednesday have less swell and very little wind so we will launch then. Download a leave form and complete it, and send it in to whoever will miss you if you don't turn up at work… And join us for some aquatic therapy.
regards
Tony Lindeque
076 817 1099
www.learntodivetoday.co.za
www.learntodivetoday.co.za/blog/
Diving is addictive!
To subscribe to receive this newsletter by email, use the form on this page!