(An alternative title for this post could be: How I Got Really Excited About Walking Around on a Historical Garbage Dump.)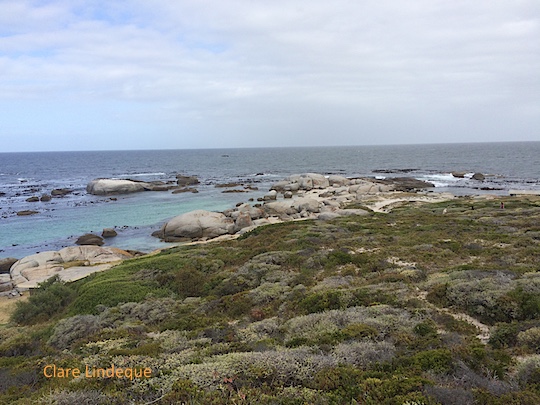 On the seaward side of the parking areas at Miller's Point is a short string of beautiful, secluded coves demarcated by rounded granite boulders like the ones that shelter Windmill Beach, Fisherman's Beach and Boulders Beach further north. This area is much beloved by free divers and snorkelers, and also by day trippers who make use of the braai area and massive tidal pool on weekends and during holiday seasons.
To get to these coves, and to the braai area (located on the site of a former whaling station) and tidal pool, one must walk past and over what looks like an overgrown sand dune. The truth is, it's something a bit more special than that. For one thing, the dune vegetation is considered an excellent example of Coastal Duneveld, one of the last remaining undisturbed sites on the Cape Peninsula, for which reason you shouldn't go trampling on it at will.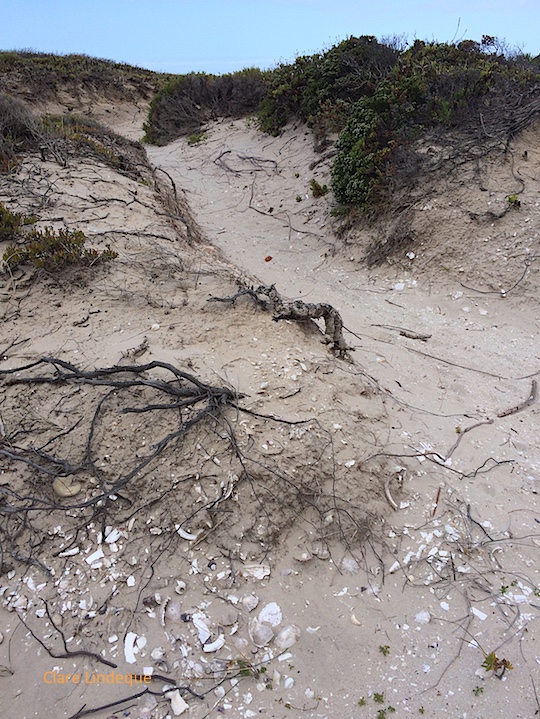 Furthermore (and the point of this post), the sand dune at Miller's Point is actually a Late Stone Age shell midden, or ancient garbage heap. Early inhabitants of this stretch of coastline discarded the shells of the shellfish that they consumed in distinct areas, of which this is one. Embedded in the sand and between the roots of the dune vegetation are thousands and thousands of shell fragments, representing the highly nutritious marine diet of hunter gatherers who moved along the southern African coastline.
According to the City of Cape Town's local development framework for Miller's Point, a 2004 document, at least the top and/or edges of this midden probably date from the early 1700s:
Early pre-colonial references to the use of the site are contained in a shell midden associated with the large dune immediately west of the tidal pool recreation area. A shell midden is an accumulation of shellfish, bone and stone artefacts, which mark places where people stayed or prepared food. The presence however of early 18th Century colonial artefacts mixed in with the shell deposits suggests that part of the midden was deposited fairly recently. The preservation of this midden is important for a number of reasons, one of which is that the presence of colonial artefacts may represent evidence of contact between indigenous groups and early colonists.
Midden's are distinguishable from random piles of shells by the fact that they contain a uniformity of species (this one is mostly the shells of abalone and limpets with some little whelks, as far as I can tell) of a size that would make them worthwhile to collect for food (i.e. not too small), as well as the remains of bones, tools and charcoal.
It goes without saying that as a historical site, which should be signposted and boardwalked to protect the vegetation and shell midden remains, you shouldn't remove anything from the area, or be too free and easy wandering off the sandy paths, many of which have been cut straight through the midden. Hopefully SAHRA and the City of Cape Town will one day be able to protect and preserve this site. But these things take time and money, both of which are in short supply, so in the mean time let us be responsible citizens: excited about our nearby midden, but respectful and mindful of its cultural and historical value.
To further your education about shell middens, should you wish to, I recommend Shorelines, Strandlopers and Shell Middens – there is much to be discovered and investigated along this coastline of ours. For an interpretation of how our local history may have looked, you could also investigate the Sea-Change exhibition while it's still on the Sea Point Promenade.