Worms may not seem to be a particulary alluring choice of topic to mull over, and I'm actually inclined to agree with you after listening to my sister (mother of an infant) recounting the tale of how a friend of a friend had to remove a roundworm from her toddler's nose (DON'T ask)… But marine worms are somehow less repulsive than terrestrial ones, and certainly come in a huge variety of shapes and sizes. Fanworms are pretty, but all the rest have at least something interesting about them…
Most marine worms are segmented, from the phylum Annelida. The examples here, however, are not!
Peanut worms, which belong to the phulum Sipunculida, have a tubular portion called an introvert that can be squeezed out with muscular contractions. Very attractive. They are unsegmented and when threatened they can contract their bodies into the shape of a peanut by retracting the introvert.
I found this milky scaleworm at Long Beach, and thought it was a feather in the shallow water on the sand. When the feather ran away from me, my impression was corrected! These little worms often share burrows with sandprawns, which are quite copious at Long Beach. Milky scaleworms are Polychaetes, which implies that they have chitin protrusions (usually kind of furry) emanating from each of their body segments.
Glycerine worms live in the sand, and I sometimes see them moving vigorously. They are also Polychaetes. They have four sharp sets of jaws and is quite a vicious predator (as worms go), feeding on other worms and crustaceans.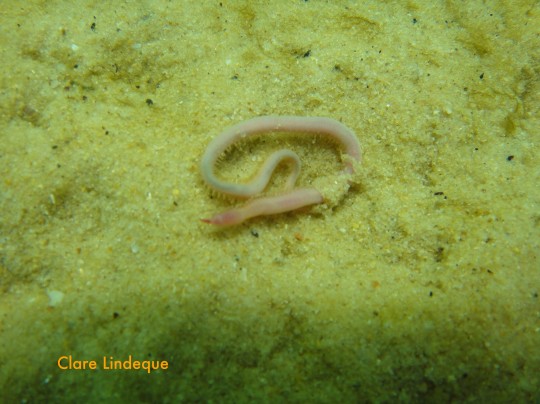 Flatworms belong to the phylum Platyhelminthes. I was very excited to see my first carpet flatworm in April, but the sighting was immediately (minutes later) followed by several more, and again on subsequent dives over the next few weeks. These worms are often mistaken for nudibranchs, but they're worms through and through. The knobs on its surface are for camouflage, and also to increase the worm's surface area. This assists in respiration.