Hello everyone
Cage diving has long been on my bucket list. Yesterday it moved from being something I want to do one day to something I must do again. There is huge debate as to whether or not it is an eco-friendly practice but the ethics of chumming and baiting sharks is an entire chapter on its own.
This practice is once again in the limelight as a diver was bitten by a dusky shark in Natal yesterday whilst on a baited dive. For those that don't know what this is, it is basically a group of divers hanging in mid water around a washing machine drum filled with shark bait. The idea is this draws the sharks for viewing and photographing.
It would appear from the press release that the shark took a bite at the divers fins in a "mistaken Identity" incident. The diver sustained bites but survived. A huge debate will now ensue. Irrespective of whether you are for or against the practice, it is true to say that seeing these majestic creatures underwater does give them more of a chance at survival as more and more people come to understand them as huge predators entitled to use the ocean and not as man-eating killing machines as they have for so long been portrayed.
But back to cage diving, Clare took me to Gaansbaai for my birthday and we did a trip with Marine Dynamics. We had booked with Apex in Simon's Town but the weather in False Bay on Wednesday precluded the chance of getting in the cage so we felt it would be a waste.
The boat was solid, (built entirely from aluminium) and the trip out to Dyer Island took around 25 minutes.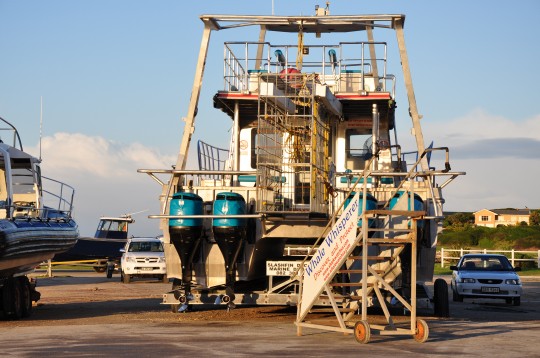 Add some chum (chopped up fish bits) and a constant trickle of blood and fish oils…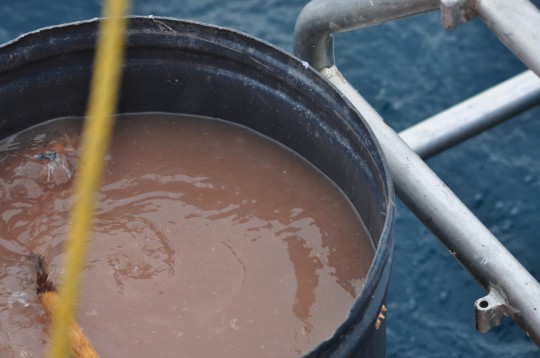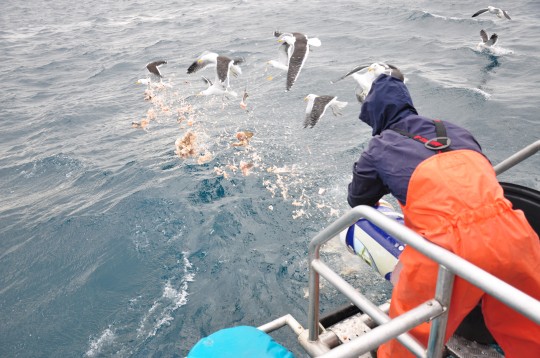 Add a cage (seven people at a time)…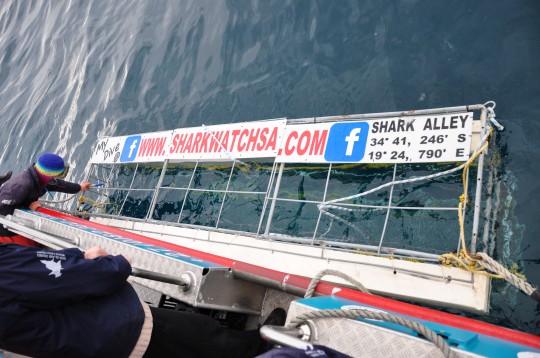 Add a decoy and a bait lump of fish heads and wait…
It was slow according to the operator and it took two hours before the first shark appeared. The shark did a drive by of the decoy and the bait block and then did a few passing lunges. The bait handler was quick and made sure the shark never "got the food".
However the chum slick of fish blood and oils is constantly trickled out of a drum on the boat and the sharks hang around whilst all the passengers have 20 minute stints in the cage. Clare and I had two rounds in the cage with a video and a still camera. We will put the video and photo's up on the blog in a few days.
This weekend
The bay has been pummeled by big swells lately so diving has been limited. Saturday and Sunday look good providing we have an early start on Sunday as the wind picks up around midday. Saturday, Grant will launch the boat for a deep dive to Smits wrecks and then a shallow dive on the wreck of the Pietermaritzburg. Launching from Millers point.
best regards
Tony Lindeque
076 817 1099
www.learntodivetoday.co.za
www.learntodivetoday.co.za/blog
Diving is addictive!