Hi divers
We are off travelling for ten days, so this week's newsletter is a list of dates to diarise!
The photos in this newsletter are from a lovely deep dive for an Advanced course that we did at Outer Photographer's Reef on Saturday, followed by a dive at Phoenix Shoal just outside the harbour in Simon's Town. There are some videos from the Outer Photographer's Reef dive here. The visibility on both dives was 6-8 metres, but yesterday it had improved to 10 metres at Seal Rock and Shark Alley (no cowsharks though).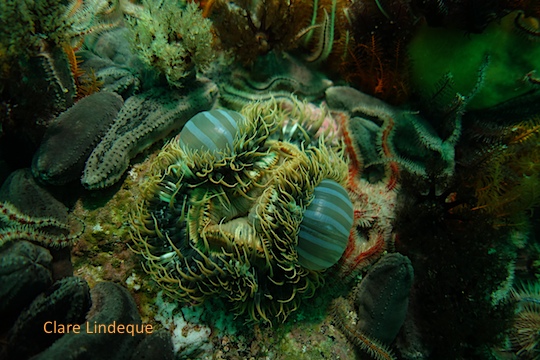 ScubaPro Day – Saturday 26 October
The ScubaPro Day takes place at False Bay Yacht Club on Saturday 26 October. Discounted boat dives and the chance to try some dive gear (tips on that here) – the participating dive charters will take bookings directly. There are four launch times, starting nice and early. Underwater Explorers is participating if you're at a loose end!
Diversnight International – Thursday 7 November
November 7th is Diversnight International, sign up here. It is an international event with the aim of having as many divers in the water as possible at 8.13pm (2013 – get it?). If you enjoy night diving, or want to try it out, then you should be there. It's quite festive. More details about this event will be provided when we get back from the Red Sea!
DAN Day – Saturday 9 November
We attended the last DAN day in Cape Town, which comprised a tour of the SA Navy diving facility, and a series of excellent talks by DAN medics and the NSRI. The next one is on Saturday 9 November, and comes highly recommended. Early booking is essential (the last one was fully subscribed) – more info here.
regards
Tony Lindeque
076 817 1099
www.learntodivetoday.co.za
www.learntodivetoday.co.za/blog/
Diving is addictive!
To subscribe to receive this newsletter by email, click here or use the form on this page!