I have a faint obseession with container ships. It emerged – when Tony and I were driving back to Amsterdam from a family holiday in Denmark in July of 2011 – that he has an obsession with the Kiel Canal. This is a sign that we were meant to be together (one of several such). Fortunately it was on our route, and we stumbled across it mostly by accident owing to my poor navigation skills.
Called the Nord-Ostsee-Kanal in German, it is the world's busiest artificial waterway, and is about 100 kilometres long. It slices across the top of Germany, joining the North Sea to the Baltic. This saves considerable sea distance for shipping. The access point that we found was a short walk down a tarred road to a viewing platform near a bridge, which I think is the New Levensau High Bridge.
It was quiet and calm when we arrived, but only remained thus for a moment…
We hung about a bit, and were soon rewarded with a nice container ship called Eilbek approaching from the Baltic Sea direction. It just fit under the bridge!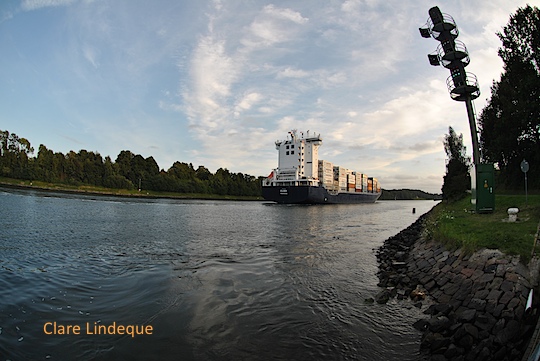 To get an idea of how much traffic the Kiel Canal experiences, go to this AIS tracking site, type "Kiel Canal" in the box on the top left where it says "Go to Area", and marvel.