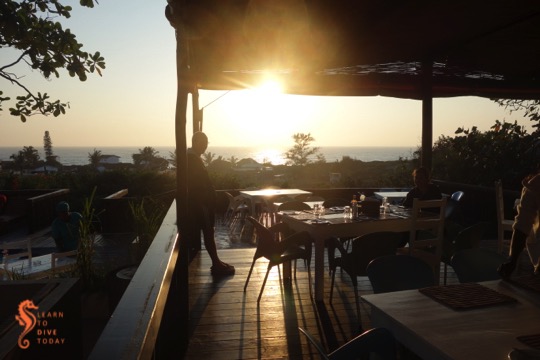 Earlier this month we returned from our second ever dive trip to Ponta do Ouro. (It was my third time there – on my first trip, in 2009, I wasn't qualified to dive yet, and met my future husband, where he was diving and skippering five times a day and living in a reed hut. I still sometimes feel guilty for having a part in him leaving this little piece of paradise.) We flew to Durban. A shuttle transported us to the Kosi Bay border post, where we were met by Mike of Blowing Bubbles Diving. Mike drove us and our luggage over the dunes into town, and dropped us at Planet Scuba, where we would stay for the week.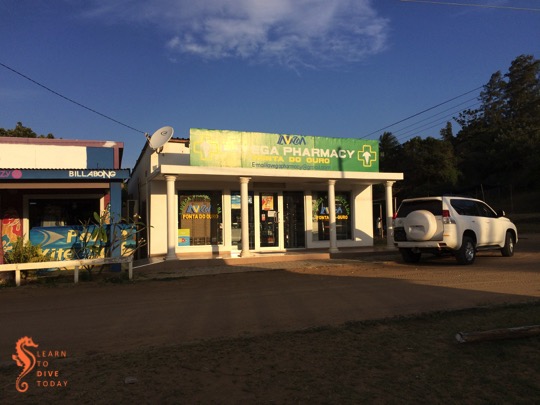 Planet Scuba is situated on top of the hill that overlooks Ponta's central square. Since my last visit (I think), a pharmacy has opened on the corner (pictured above), and later in the trip we purchased a much needed decongestant there (for a fairly princely sum, but beggars can't be choosers).
Every morning we would walk down the steps to the road that leads to the beach, and head towards the point to meet up with the boat for diving. After diving, we would either walk back or get a ride on the back of the Blowing Bubbles bakkie. We breakfasted between dives, and then returned to the beach. The dives in Ponta do Ouro are boat dives, and the skippers launch the boat off the beach through the waves. There was almost no swell while we were there, so the surf launches were quite tame!
We dived for five days, most of us doing ten dives in total. We contemplated a dolphin trip with Dolphin Encountours, but reports were that boats were only seeing one or two dolphins, if any, and the trips cost more than a dive so we carried on diving instead. We were so, so lucky to see a huge pod of dolphins at the end of our last dive, near Ponta Malongane. On our first dive that day we had seen big schools of baitfish near the surface, and the dolphins had probably come to the area for feeding. We weren't allowed to get into the water with them, but they swam past the boat for ages, and we heard them breathing as they passed by. Tony and I stuck our cameras over the side of the boat, and it turned out there were many more dolphins underwater than we could see on the surface.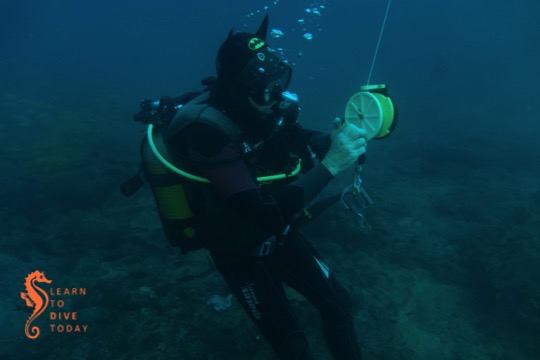 The pace of life was very mellow. We dived, ate, slept, and repeated various iterations of that sequence. We admired the community of friendly dogs down at the beach. We enjoyed hungry cats and condensed milk milkshakes at Neptune's, with a view over the Motel do Mar (where we stayed on our last trip) to the beach. We had a healthy and delicious lunch at Mango above the Dolphin Centre, and got thoroughly soaked by a tropical rainstorm on the way back to Planet Scuba. Christo, Esther and Laurine sampled the "chemical s***storm in a glass" (I quote Esther) that is Ponta do Ouro's famous R&R (rum and raspberry). Strangely, none of them wanted any more…
The diving was excellent. The water temperature was 23 degrees, and we had (apparently mediocre for Ponta) visibility of about 10 metres, sometimes more. This was very acceptable to us as Capetonians. The reefs are teeming with life, and all of us saw something new. Laurine was enchanted by a turtle, Tony spent most of his dives upside down with his head in crevices in the reef, Christo directed all of us to exciting discoveries with his torch and pigsticker (a metal kebab stick slash pointer that must have a different name but I don't know it), and Esther maintained her sense of wonder and calm as she brought up the rear of our little group on most dives. On one of the dives a very strong current gave us opportunities to use our SMBs, which was an excellent learning experience and a reminder of how important a safety sausage is, no matter where you are diving.
The air temperature was warm, the wind hardly blew, and for a while we could forget that at home in Cape Town it was cold, frequently dark, and overflowing with commitments and obligations. We returned the way we had come, but feeling a little more ready to cope with the rest of the Cape winter. We'll be back in a couple of years, Ponta!
(I'll share some little videos and more photos from the trip over the next couple of weeks.)