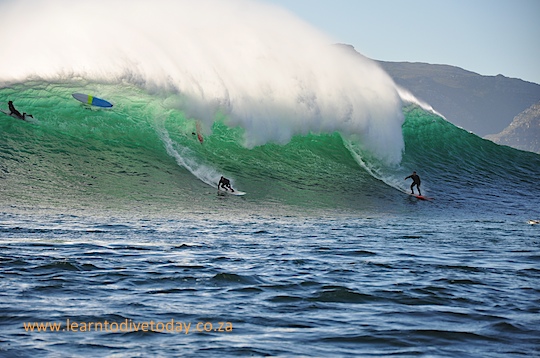 On Saturday 23 August a long (21 second) period swell rolled in from a favourable direction, and some waves stood up quite tall at Sunset Reef, a wedge shaped reef about a kilometre off Long Beach, Kommetjie, that starts breaking when the swell is 3-4 metres in size. There were about 25 surfers in the water, and a few spectators in boats and jet skis. The wave I filmed in this video was too small (I think) to ride, so it just rolled through the group of surfers untouched. But it gives you a sense of how these bulges of water were appearing, seemingly from nowhere, on an otherwise flat piece of ocean, and then storming beachward.
[youtube="http://www.youtube.com/watch?v=9ITLxvOHLaE&w=540″]
The air temperature was on the nippy side, and the water was on the very nippy side, so the surfers must have been quite chilled lying on their boards waiting for something to happen. This second video shows some surfers actually catching one of the bigger waves.  Look how fast they are moving! You can also get an idea of the number of boats and jet skis in attendance.
[youtube="http://www.youtube.com/watch?v=MsYanszXi-E&w=540″]
When conditions are this good for surfing it's rarely good enough to dive, which is why we're very happy to take the boat out for an adventure like this when the opportunity arises. Please get in touch if you'd like to be informed of future expeditions!
Interested in a more sedate introduction to big wave surfing? I just read Ghost Wave, which is pretty awesome.