The Seli 1 ran aground off Bloubergstrand in September 2009. Because we love shipwrecks, Tony and I visit her fairly regularly (and the Milky Lane across the road).
Here's an update on her status, in pictorial form. As far as news goes, it's thin on the ground. It was reported in March 2011 that the wreck would be strategically weakened through the detonation of explosives in order to expedite its demolition by winter storms. It's expected that by the end of next year the wreck will be no more. Let's wait and see!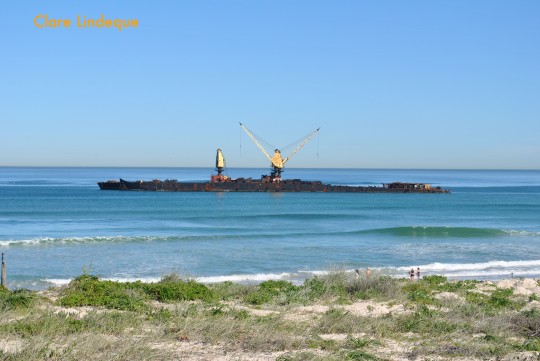 When we visited the wreck last night, we could see holes all the way through the bow, where the sea washes through. The stern is now so low in the water that – in the massive swell we are experiencing this week – it is completely awash at times. There are still cranes on the wreck and the sandbanks around it are making surfers and kite surfers very happy indeed.
Underwater Explorers has dived around the wreck already, this past summer. Looking forward to checking it out myself, as soon as the southeaster starts up again in earnest.
If you're interested in visible shipwrecks, check out my ebook Cape Town's Visible Shipwrecks: A Guide for Explorers!