There is a gorgeous star blaasop living in the Lagoon tank at uShaka Marine World where Tony and I dived last month. We saw him a year ago when we visited, and he's grown a lot since then. Same as last year, we found him hanging out at the window looking into the Open Ocean tank – perhaps dreaming of growing up to be a shark one day.
He's very friendly, and swam with me for quite a distance, occasionally making alarming forays towards my camera (which made for some great photo opportunities). I love his compact little body and the way his fins move back and forth at his sides – they seem far too small to propel his girth anywhere significant!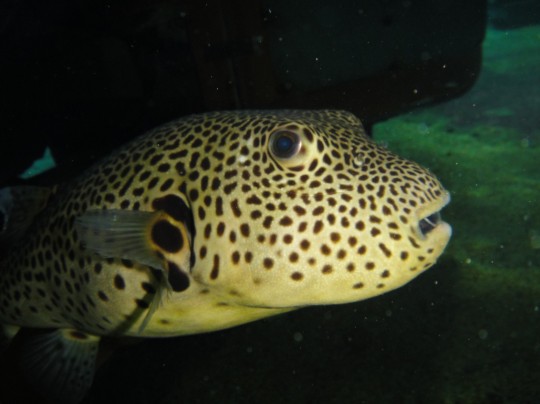 Here's a short clip Tony took of the blaasop. Initially he was hiding in a packing pallette – during this part of the clip there's an oil spot on the camera lens. Subsequently you see him investigating me. My hand is in a fist because I'd already been nibbled on by our cheeklined wrasse friend – looks like I am winding up for a punch but it was just a precautionary measure to protect my fingers.
[youtube=http://www.youtube.com/watch?v=8AshMxrl7pE&w=540]