After a successful Back a Buddy campaign, Shark Spotters launched their free shark safety smartphone app in the summer of 2016. The app has had excellent uptake by water users of all stripes, but I'd like to draw it to your attention in case you aren't familiar with the ways in which it can make your beach life better and safer! Whether you're a surfer, a diver, an ocean swimmer, a beach comber, or someone who looks forward to long summer days under an umbrella on the sand, the Shark Spotters app can make a difference to you.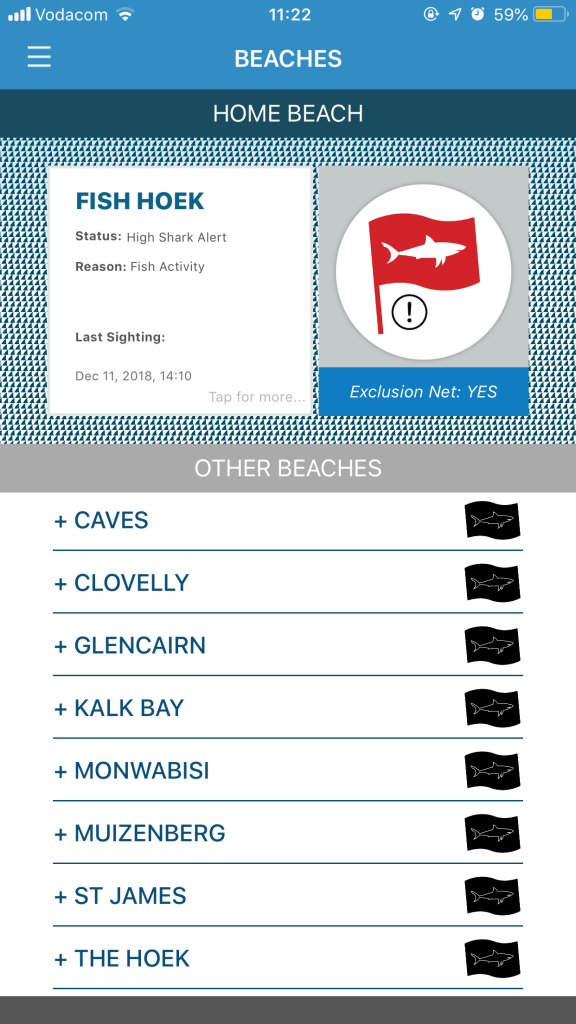 Shark Spotters operate at eight beaches around the Cape Peninsula: four (Muizenberg, St James/Kalk Bay, Fish Hoek & Caves, Kogel Bay) year-round, and another four (Glencairn, Clovelly, Monwabisi and the Hoek, Noordhoek) from October to April, during the warmer months.
The app allows one to set a home beach – you can see from the image above that mine is Fish Hoek – and when you start the app, you'll get information for your home beach immediately. Tapping on the home beach block at the top of the screen (where it says "Tap for more") brings one to a series of screens that you can navigate through by swiping the bottom block on the screen.
The information provided is extensive. You can see information on the last three shark sightings at your home beach, the weather and sea conditions (temperature, wind direction, tides, moon phase, swell), and information on what marine life is in the area. This latter information is not a nice to have so you can look out for dolphins from shore, but an important indicator of the likelihood of a shark being in the area. Dolphins, rays and schools of fish can draw white sharks, while sunfish (and even seals) may be mistaken for a shark when viewed from a distance by an untrained observer.
There's also information on what facilities are available at the beach, and a short video for each beach, usually taken each morning, showing the prevailing conditions.
All this information is available for all the Shark Spotters beaches, not just your home beach, and you can view a different beach by selecting it from the list that appears under your home beach on the home screen.
Digging into the app, you can find a detailed list of all the recorded shark sightings, and in the settings you can turn notifications of sightings on or off according to your preference. I have them switched on, because I like to be reminded of a world outside the office.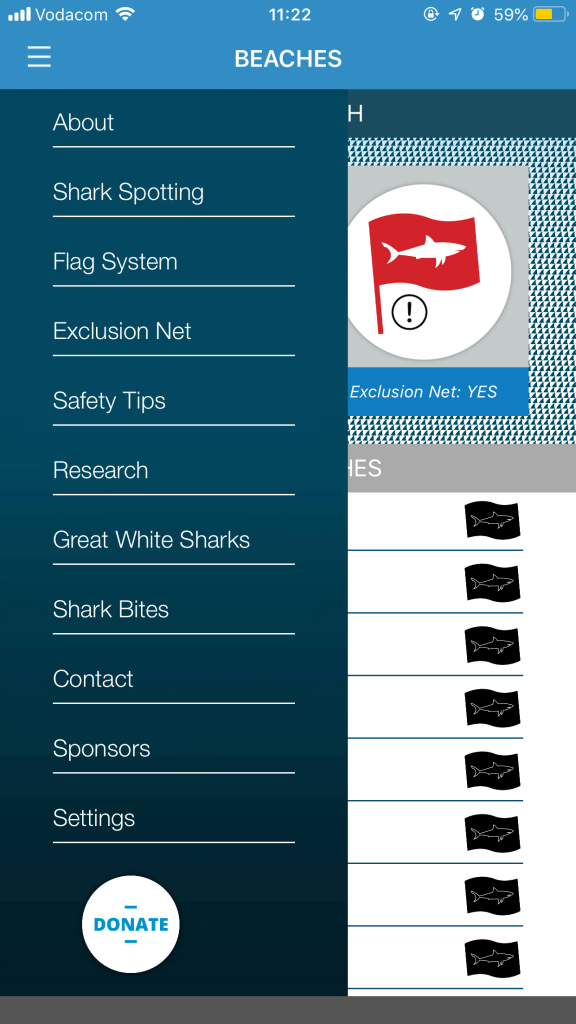 The further menu options, shown above, give you access to a large amount of data about the Shark Spotters program, the exclusion net at Fish Hoek beach, how the flag system works, great white sharks, and more. Most of the menu options also provide links to more detailed information online, if you want to know more.
You can download the app for iOS here, for Android here, or use the download links from the Shark Spotters website. The app is completely free of charge, but Shark Spotters is funded by the City of Cape Town, Save Our Seas Foundation, and other generous sponsors, including individuals. Shark Spotters welcomes donations. Click here to donate.