Eye of the Shoal: A Fishwatcher's Guide to Life, the Ocean and Everything – Helen Scales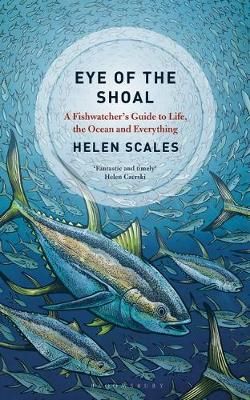 This is an absolutely wonderful book about fish. Everything about fish. Helen Scales is a marine biologist and the accomplished author of marine-themed books (I previously wrote about Poseidon's Steed, her book about seahorses).
Here, Scales delves into the world of an animal whose variety seems almost without limit. Her book overflows with wonders, and interweaves science, adventure and mythology to shed light on the under-appreciated inhabitants of the underwater realm.
Unsolicited (this is almost always the case), I read half of this book to Tony while I was busy with it, and it delighted both of us. We learned about bioluminescent fish, poisonous fish, the sounds fish make, and the colours of their skin. We learned about fish that use tools, fish cognition, and about the state of the science regarding whether fish experience pain. We even learned about moray eels and grouper hunting co-operatively.
As a scuba diver, Scales relates tales of dives on which she observed the behaviours and phenomena she describes, and I was inspired to pay more attention to the activities of the fish we see on dives around Cape Town. They may (almost) all be the same colour, but there are certainly things that they do, and fascinating ways of being, that I am failing to appreciate.
Scales provides a bibliography on her website with links to the open access scientific papers that she used to research the book.