The Cape Columbine Nature Reserve is just outside the small fishing town of Paternoster on the West Coast. It's the reserve that contains Tietiesbaai campsite, and is a popular camping location during crayfishing season. Tony and I camped there several years ago, and enjoyed the space and the ability to set up anywhere we wanted to.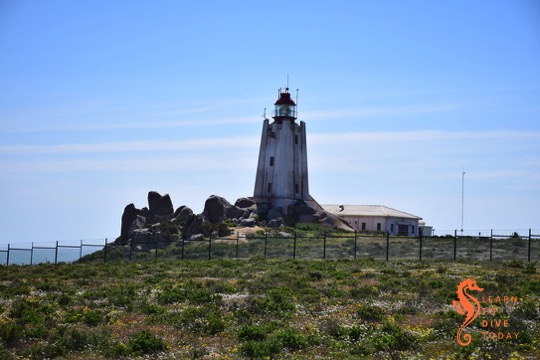 Inside the reserve is the Cape Columbine lighthouse, which has an art deco feel to it. Built on top of a rocky outcrop called Castle Rock, it was commissioned in 1936. The lighthouse is a 15 metre high masonry tower topped by a 5,040,000 candela light with a range of 30 nautical miles. It covers a particularly treacherous coast, prone to fog and gales, and with many hidden reefs.
Cape Columbine lighthouse is manned, and can be visited by the public on weekdays between 10.00 and 15.00.Cape Columbine was the last manned lighthouse to be constructed in South Africa. We haven't passed by on a weekday yet, so I haven't been inside.
When we camped at Columbine Nature Reserve in 2009, the lighthouse was in much better shape. I took the picture below on that trip. If you drive around the lighthouse, you may see a small green tower inside a fenced off area that houses a fog detector, and a fog signal that sounds when fog is detected. This apparatus used to be housed at the lighthouse, but in 1995 the opportunity was taken to move both sets of devices (detector and signaller) closer to the sea.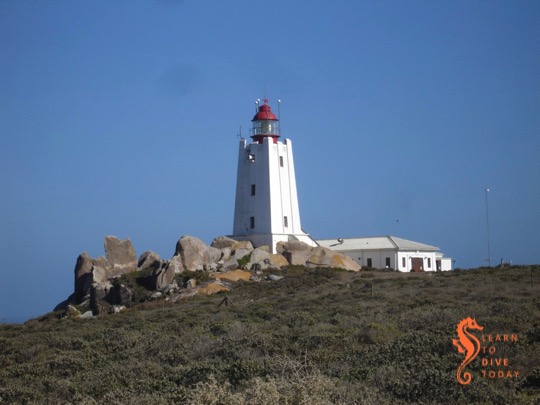 Learn more about South Africa's lighthouses from Lighthouses of South Africa.